What Shoes to Wear with Black Dress: All Occasion Picks
The best thing about a black dress is the colour is neutral and goes with all other colours. Want to know something else? You can put on a black dress when attending any occasion and during any season. That's how versatile your beautiful black dress can be. Still, the quest of completing this look leaves many Googling, "What shoes to wear with black dress?"
The choice depends on the type and colour of the shoes you want to wear. Also, it helps to remember some key points to help you make the fashion-forward decision. Let's dive in.
1. Best Color Shoes to Wear with Black Dresses
a) Metallic shoes
Wearing a black dress with a pair of metallic shoes gives your outfit a bit of glamour. Gold or silver shoes add shine and sparkle to your outfit, making it outstanding. You could also opt for ballet flats for a laid-back vibe with a black midi dress.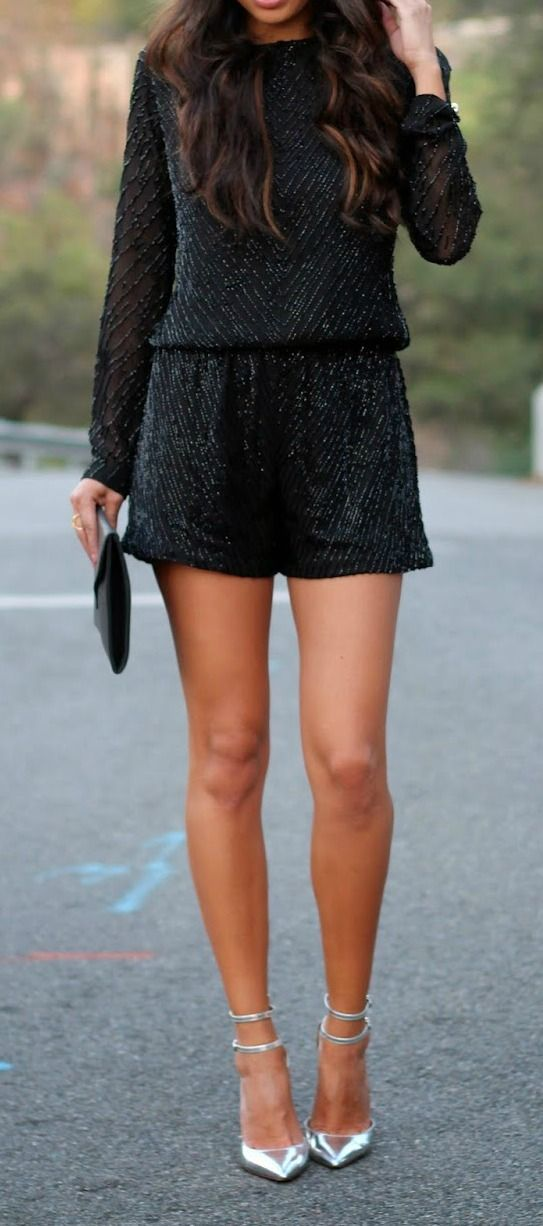 Image source: luvtolook.net
That's a perfect look for special occasions and parties. Another way to rock your black dress with metallic shoes is to wear ankle boots and a leather jacket for date night or concerts.
b) Black shoes
Black on black never goes out of style. It is a great way to achieve an effortless yet chic office look. You could also match black shoes and dresses when attending a cocktail party.
Image source: masterclass.com
c) Brown shoes
Brown shoes give a more traditional look. They are versatile, and you can dress them up or down according to your outfit. Pairing brown footwear with a black dress is a nice way to dress up for most occasions.
Image source: birdies.com
d) Animal print shoes
Remember, a black dress is neutral, so you can be adventurous with the colours you pair it with. Animal prints bring playfulness to your outfit. It adds texture to your look while ensuring you remain neutral.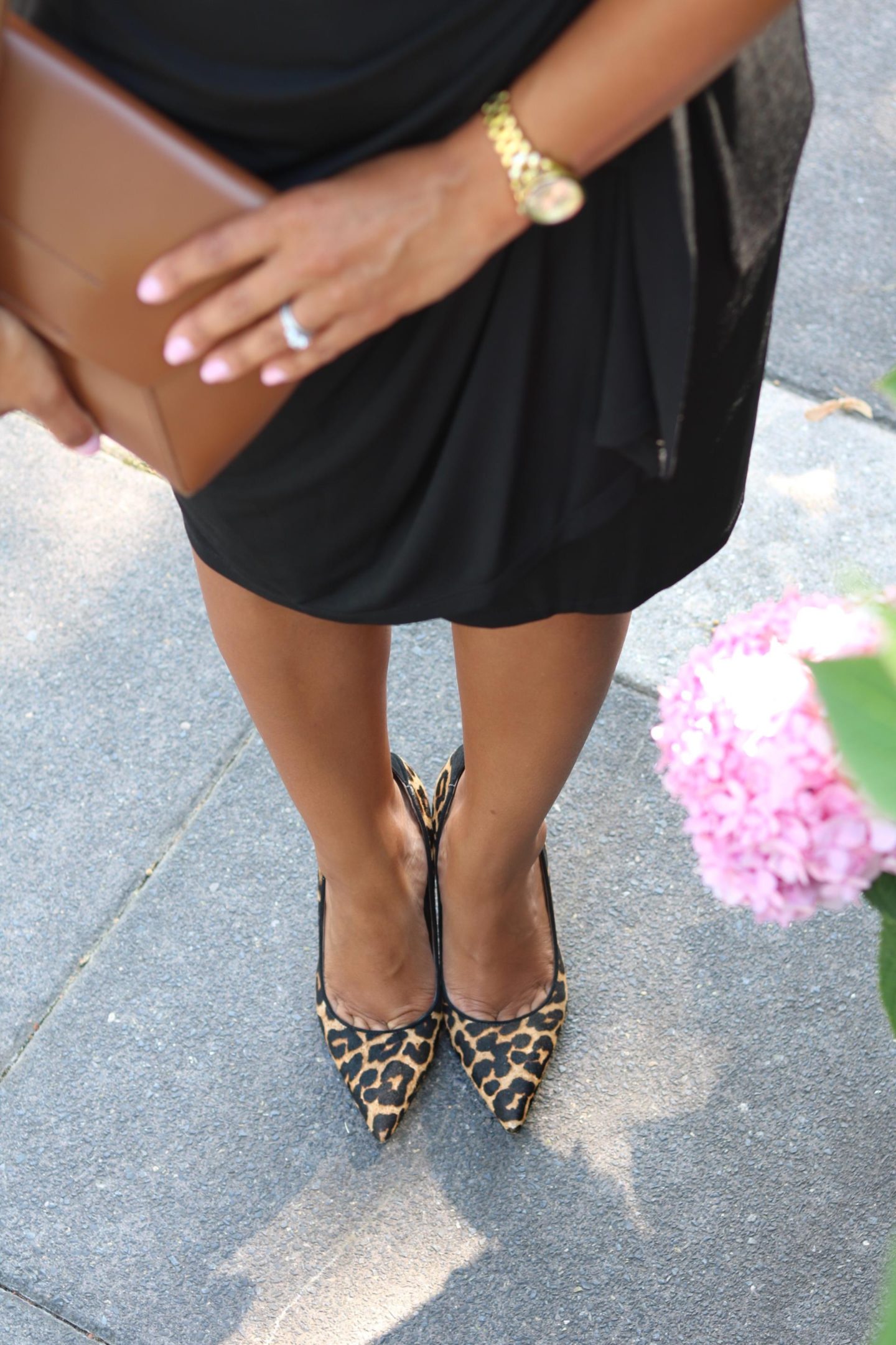 Image source: thisseasonsgold.com
e) Colourful shoes
There is nothing wrong with adding a pop of colour to your look by including a pair of colourful shoes. It is an excellent way of adding a youthful and alluring vibe to your look.
Image source: tefatgirloffashion.com
Getting colourful shoes for your outfit is a smart way to achieve a more casual look. But make sure the vibrant shoe colours match what you already have. Still, the brighter, the better, and you can go for a high-shine version of any colour of shoes you choose.
f) Nude shoes
Nude shoes, like black dresses, are neutral and can go with any colour. They are a versatile option that can complete your look well by complementing a black dress. These shoes elongate your legs and create an elegant, sleek look, perfect for any formal event.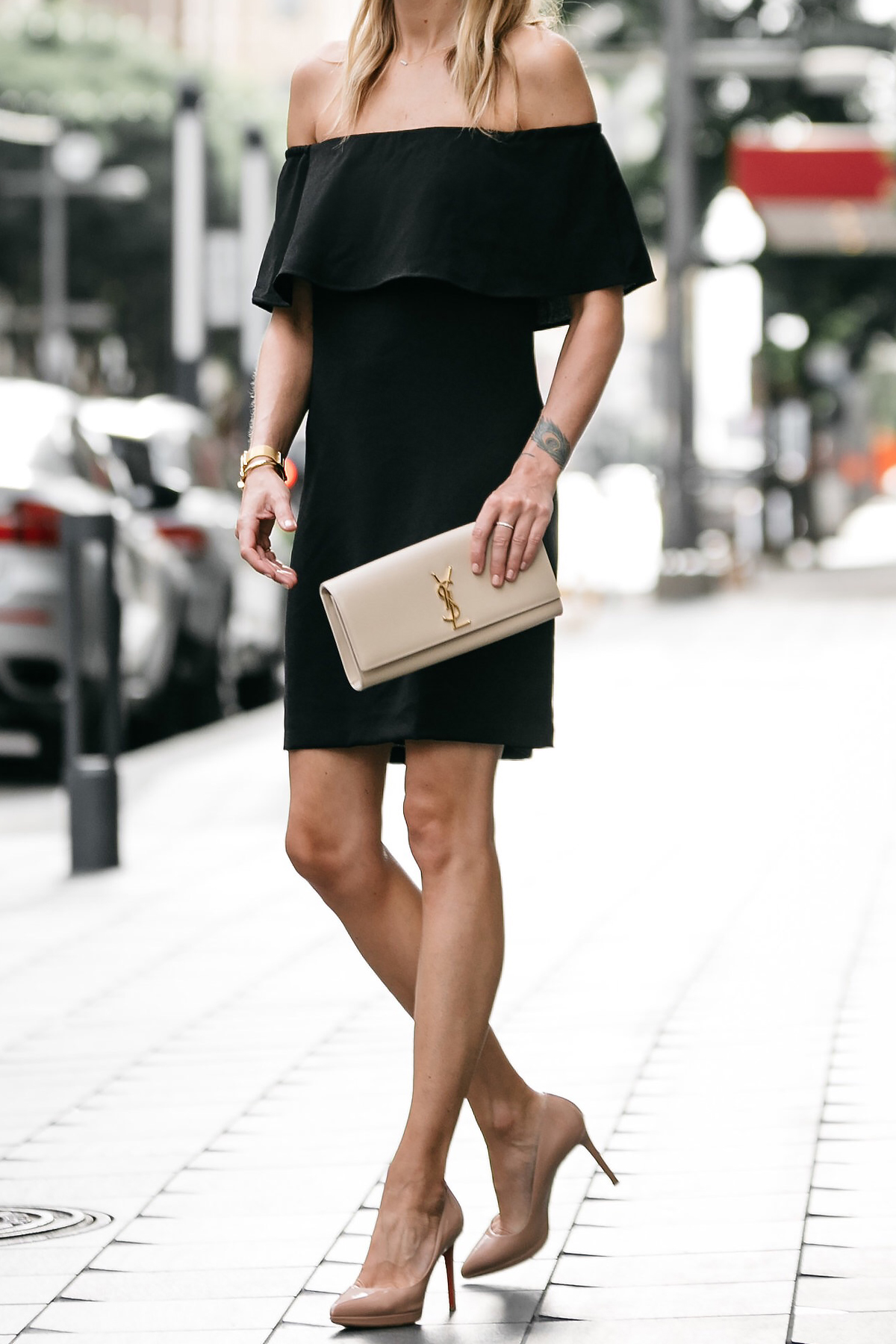 They are best if you get a shade matching your skin tone. The look makes your legs look longer, and if you want to add height to your frame, wear pumps or high-heeled sandals.
2. Best Shoe Type to Wear with a Black Dress
a) Sneakers
Sneakers are some of the most comfortable shoes to wear with a black dress. They are casual, add playfulness, and create a laid-back and effortless effect, ideal for a weekend outing and any other daytime event.
Image source: glassofglam.com
When wearing your black dress with sneakers, ensure you get a pair that will complement your style and the occasion, like our Sunday Slipper or our Weekend Sneakers. You can get sneakers in various styles like high-top, platform, or even low-top.
The best thing about sneakers is you can enhance their appearance and make them chic by adorning them with embroidery, patterns, and logos. Don't forget you'll also need a pair of ankle socks for comfort and warmth when wearing sneakers.
b) Boots
Boots with dresses are one of the best go-to outfits for most occasions. They go well with midi dresses. Also, if you want a boho vibe, buckles and fringe ankle boots are some options to try.
Image source: themonedit.com
Ankle boots, for example, are versatile, and you can pair them with your black dress for most looks, including casual, weekend, and office-appropriate looks. The outfit will be even more relaxed if you get ankle boots with a wedge or block heel.
Knee-high boots are also an all-time trend. The straight-leg knee boots are easier to wear than thigh-high boots and look great with a short black dress. Still, the dress doesn't have to be mini, and you can wear it with a just above-the-knee dress.
Tall boots that go above the knee are a great option to wear in between seasons, provided the weather permits. But this look is usually not appropriate for formal settings. The higher the boot, the less appropriate it is for formal events. So, you could wear your short black dress and thigh-high boots to parties and similar functions.
c) Pointed-toe pumps and flats
A pointed-toe pump or pointed toes on flats are fashionable options. Pointed toe-pumps look polished with formal work wardrobes. It is also chic enough to take you through dinner and drinks. Remember, the higher the heel, the fancier the shoe looks.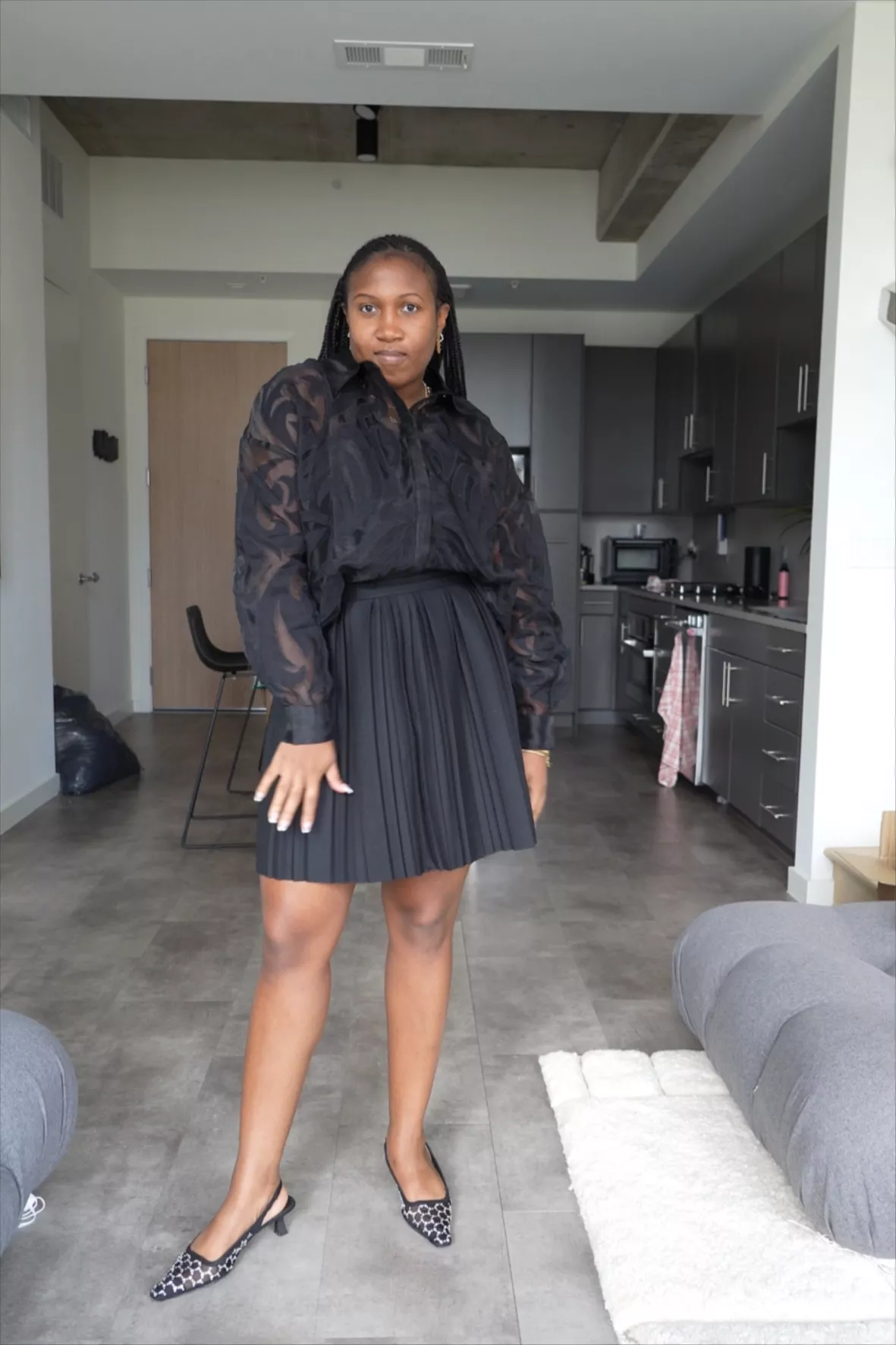 Image source: ltk.com
d) Loafers
How about brogues and loafers with a midi or mini dress you plan to wear to a casual event? Wearing your black dress with a pair of platform monk strap brogues or chunky lug sole loafers is fashionable.
Image source: elevate.in
A classic lace-up oxford and loafer always stay in style, especially in the office setting. But before dressing this way for work, ensure your black dress is on point with the shoe style. The boldness of your loafers will add visual interest to your outfit while maintaining its classiness. Plus, make sure the shoes are crease-free for a flawless execution!
e) Sandals and slides
Try strappy flat sandals with your elegant black dress if you want something that screams casual chic. Also, if you are not into straps, there are still other options you can try, like stylish leather slides for that stand-out summer look.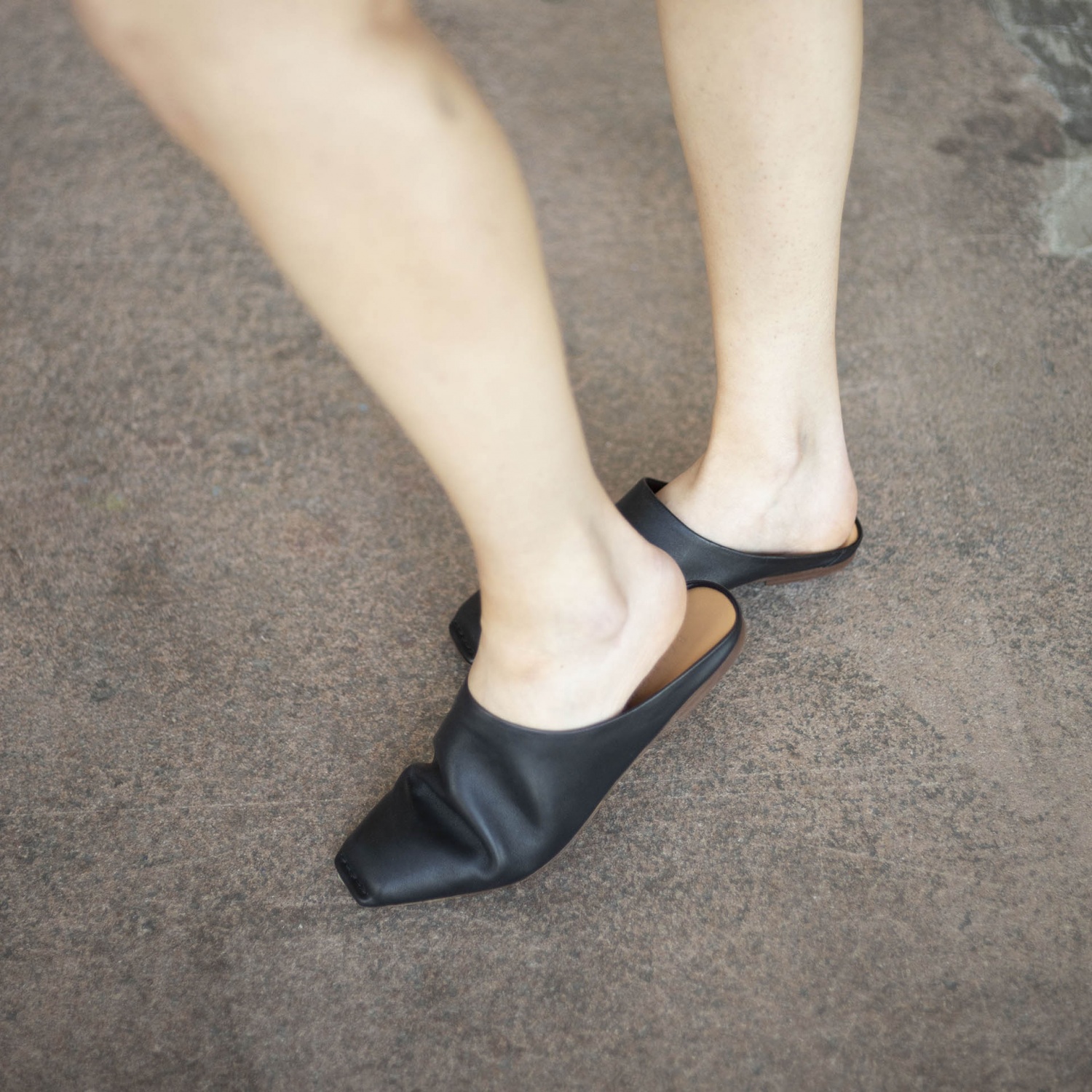 Image source: balagan.com
Flat sandals are also a good way to keep things casual. The sandals' simplicity ties things together for a laidback but modest look. Sandals and a black dress are suitable for running errands, having lunch dates, and even shopping with friends.
Tips for Getting the Best Shoes for Your Black Dress
Image source: melvinandhamilton.com
Before wearing your black dress to a function you've been eager to attend, you need to understand how to achieve the best look. Here are a few tips to help you get there.
a) Consider the season and occasion
You cannot wear the same shoes in winter as you would in the summer. So, ensure you dress according to the season to stay comfortable throughout the day. In the summer, you could wear open-toe pumps or sandals. But, in the winter, you can pair your black dress with ankle boots.
Image source: fashionjackson.com
You also need to understand the occasion to ensure you dress accordingly. Before attending a function, you must know the dress code to avoid looking out of place. You will need dressier shoes like strappy sandals or pumps for more formal events like cocktail parties. You can wear loafers or sneakers for chill occasions and still look amazing.
b) Complement the dress
You need to complement your black dress with the right pair of shoes. Consider the length, style, and silhouette of the dress. A mini dress will look good with ankle boots or loafers, while for a maxidress, you may need something different, like pumps or strappy sandals.
Image source: themomedit.com
c) Add contrast
You can add contrast to your black dress by wearing shoes with a pop of colour, a bold print, or even metallic accents. This creates a high-contrast effect, drawing attention to your feet. This effect also adds personality to your outfit.
Image source: thefashiontag.com
d) Try different styles
Black dresses go with any type of shoes. Experimenting with different shoe styles lets you see the best look before selecting. It also allows you to see what shoe style matches the occasion and your taste. Mix and match different shoes to create unique and eye-catching outfits.
Image source: instyle.com
e) Be simple
For a simple and understated look, try wearing white sneakers or nude, metallic, black, brown, or beige shoes for a cohesive and classic effect.
Image source: karenhowell.com
Frequently Asked Questions About the Best Shoes for a Black Dress
1. What footwear goes well with a black dress?
Black dresses are easy to wear as they are neutral. You can wear a black dress with shoes like boots, sneakers, loafers, slides, strappy sandals and pumps. You can never run out of options.
2. What colour shoes should I wear with a black dress?
With a black dress, you can wear shoes of any colour, from neutrals like black, white shoes, and beige shoes to more bold-coloured options like hot pink shoes, red shoes, and even burgundy shoes.