What Shoes to Wear with Joggers for a Comfortable Look
Joggers are like the Swiss Army knives of your wardrobe. Need to run a quick errand? Joggers got you covered. Feeling the call of the great outdoors for a run? Yep, joggers again. Even when you're hitting the trails or just lounging' for a TV series marathon, guess what? It's jogger time! Seriously, these things are super versatile! You can rock them almost anywhere. Now, the only head-scratcher might be what shoes to wear with joggers. No worries, though; we're diving into the world of what shoes to wear with joggers.
Joggers Vs. Sweatpants
Let's clear the air before diving into the world of jogger-friendly footwear. There's often a mix-up between sweatpants and joggers, with people throwing these terms around like they're the same thing. But they're not.
First off, the materials used for these two are like night and day. Sweatpants go for that heavy-duty cotton, while joggers opt for the lighter, breezier stuff. Joggers roll with synthetic materials think spandex, nylon, and polyester. So, when it comes to action, people usually reach for joggers, while sweatpants are more like your cozy, couch potato companions.
Image source: theadultman.com
Next, let's talk about how they look. Sweatpants tend to be baggier; sometimes, they go straight down from the waist to the ankle. You might spot them with an elastic band at the ankle, too. Joggers, on the other hand, bring the style with a slim, tapered cut as they head south. They often sport a stretchy cuff, not an elastic band.
Now, all these differences come down to the materials used to make them. Joggers, with their synthetic vibe, fall into the athleisure category. So, they're up for some action and lounging. Sweatpants, with their heavy cotton game, are the champs for those long sofa sessions. But when it comes to getting active, they're not exactly MVP material.
What Shoes to Wear With Joggers
1. What to wear with women's joggers
a) Sock booties
Did you know that the type of shoes you wear with joggers can determine how dressed-up you look? You could try sock booties if you want to rock them dressily but don't want to wear pumps or sandals.
Image source: dressforyoustyling.com
Sock booties are just like ankle boots; the only difference is that they are very tight. Try pairing these booties with black joggers and an appropriate purse and jewelry.
b) Kitten heels
A joggers and heels outfit is a look you may desire occasionally. So, to be as trendy as possible, complete your look with a pair of kitten heels. Slingback kitten heels perk up a dressy and classy jogger pant outfit.
Image source: showpo.com
c) Ballerina flats
How can I lift my casual joggers to smart casual? Wearing them with a pair of minimal ballerina flats. You could try classic Repetto styles or pointed-to designs, as most ballerina flats flatter a good jogger. Ballerina flats look incredible with light to medium-weight jogger pants that cuff at the ankle.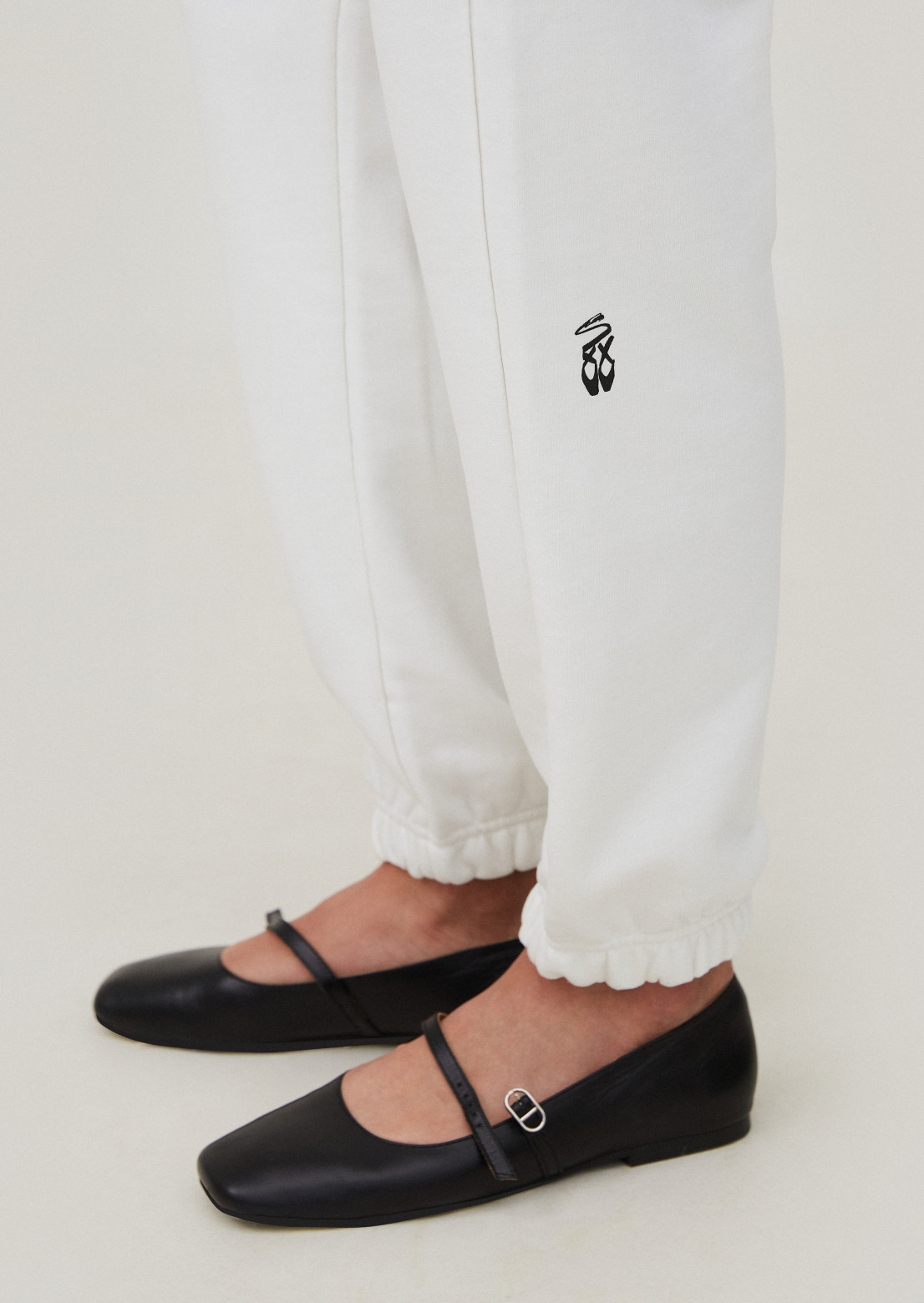 Image source: theguardian.com
Whether you like dressier or sportier jogger pants, you can pair them with ballerina flats to elevate your look. So, choose the best colour to match your joggers so you don't look mismatched. Among the benefits of these comfortable shoes is that they are lightweight and easy to walk in.
d) Slip-on loafers
Loafers are fun and perfect footwear for most seasons. But slip-on loafers are even more fun when paired with joggers. These shoes go with everything and are never out of place. Loafers are some shoes you can wear with straight-leg jeans or pair them with black joggers.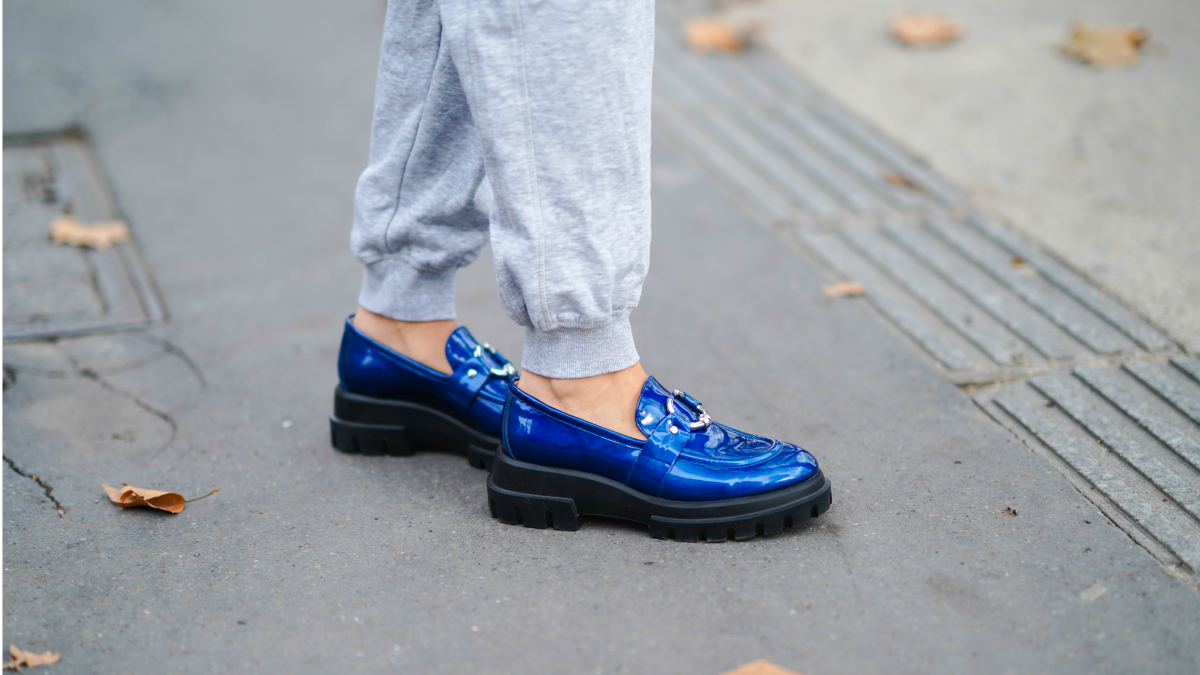 Image source: fashionista.com
A tucked-in shirt and a moto jacket complete the look incredibly. Wear slip-on loafers with a matching jogger outfit to make the look more casual, and remember to add a luxe-looking handbag to maintain a chic look.
e) Pumps
Whether you have strappy or minimal pumps, you will get a certain flair when wearing this combination. Cropped or tapered jogger pants with pumps show off the high heels, making you stand out.
Image source: purelynora.com
Pointed-toe stilettos are the best, as they can effortlessly dress up a chic pair of joggers or uplift simple joggers when paired with a denim jacket. You can also carry a large clutch or leather purse to complete the look.
f) Dress sneakers
Dress sneakers make one of the best shoe types to wear with joggers as they combine the sharp toe shape and dress shoe construction with the sporty look of a casual shoe like chunky sneakers. For instance, our Women's Weekend Sneakers go well with different types of joggers.
The best thing about matching your joggers with a pair of dress sneakers is they feature the same lightweight materials. So, with a pair of dress joggers, you get a sporty and comfortable look. This outfit is also more sophisticated than slip-on sneakers or high tops.
Image source: elle.com
2. What to wear with men's joggers
a) Chelsea boots
Joggers lean more towards athletics. But, if you do not want to look too work-out-ready, you could try Chelsea boots. These options have an elastic side panel that makes them easy to put on and off.
Image source: pinterest.com
Chelsea boots and a pair of your favourite joggers are also an excellent way to dress on a rainy day. You only need to add a dress shirt, plain white T-shirt, and trench coat. This outfit will look good on you and is also weather-proof to keep you stylish regardless of rain or shine.
b) Combat boots
If you want to bring out your masculinity with a pair of men's jogger pants, there is no better way to wear them than with combat boots. A pair of black joggers with chunky black boots will give you a rugged and intimidating vibe. Black combat boots will go well with any colour of jogger pants.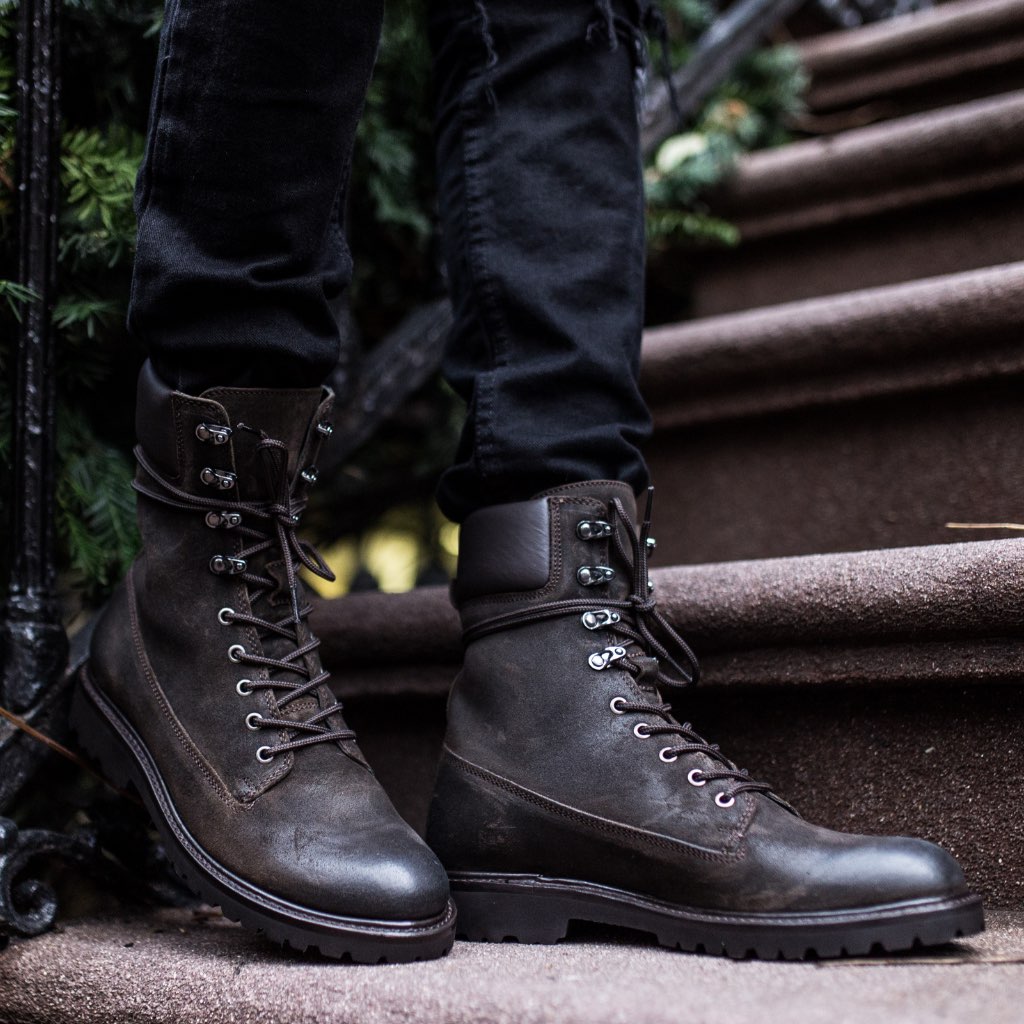 Image source: thursdayboot.com
c) Sneakers
Sneakers are most people's favourite pair of shoes to wear with joggers. They are also among the most comfortable men's shoes. Sneakers are versatile as they go well with khaki joggers, leather joggers, denim joggers, and even athletic joggers.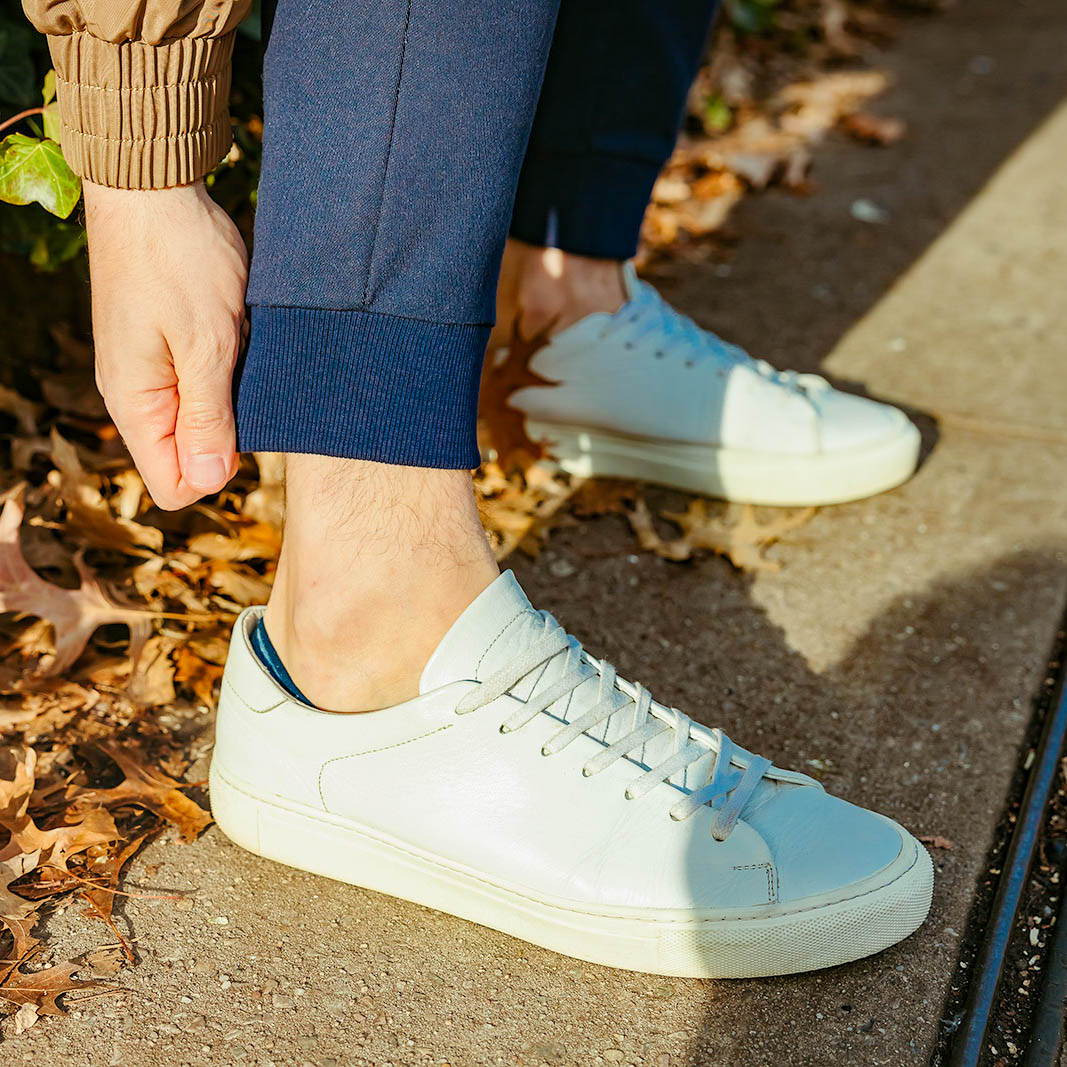 Image source: under510.com
This combo is on top of the streetwear fashion trends. Add a trench coat or a puffer jacket if you want to dress this outfit even further. It's a popular look, comfortable, and never goes out of style.
High-top sneakers are also a good option. This is a more casual shoe, and due to the tapered leg of the joggers, it will fit snuggly around your ankle.
A pair of comfy joggers and white sneakers will give you a neat look. If you decide to go for this look, ensure you are ready to commit to the athletic look fully. To do this, pair the outfit with another athletic piece, like a track jacket and a fitted white T-shirt. Our Men's Weekend Sneakers or Men's Everyday Classic are some options that could give you a sporty look.
d) Boat shoes
You could get a pair of boat shoes like Hey Dudes or Sperrys to achieve a casual look. Hey Dude shoes are suitable to wear with any other comfy pants, not just joggers.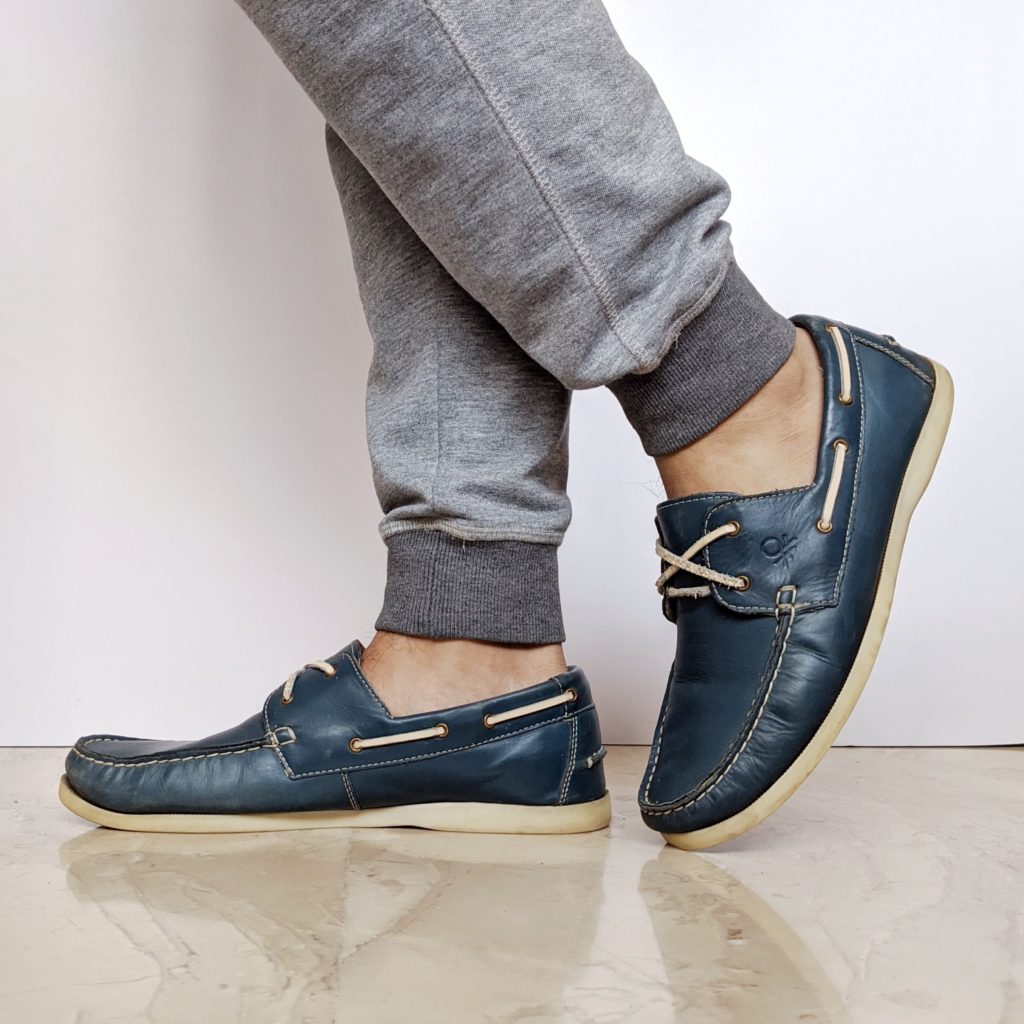 Image source: theshoestopper.com
They are comfortable and come in many different styles to pick from. Sperrys are a little more dressed but also comfy, giving an excellent boat day outfit. Boat shoes are the best when worn with chino joggers, as they pair perfectly.
Frequently Asked Questions About What Shoes to Wear with Joggers
1. What is the best shoe to wear with joggers?
There are many shoe types to wear with jogger pants. You will find both unisex and gender-based options. This guide discusses the most common shoes to wear with jogger pants. Some of these options include:
Sneakers

Boat shoes

Chelsea boats

Combat boots

Slip-on loafers

Pumps

Dress sneakers

Ballet flats

Kitten heels

Sock booties
2. Do sneakers look good with joggers?
Yes, sneakers look good with joggers. Wearing joggers, a sweatshirt, a simple T-shirt, and a pair of sneakers is a simple way to dress for a classic look.