Waterproof Vessi vs. Allbirds Mizzles Footwear Review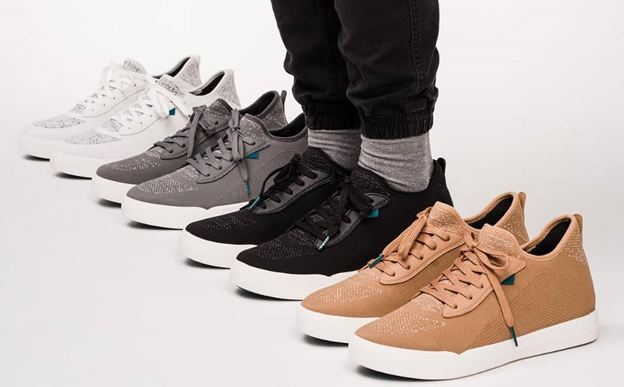 Unexpected rainy weather can make your day a little miserable at times, especially if it goes on, on an endless rant. But having a stylish pair of full waterproof sneakers is sure to change all that. The confidence that they will protect you from the rain is as intriguing as it sounds.
Here is a comparison of two water-repellent sneakers brands that give you the benefit of breathability, the comfort of your regular knit running shoes, with the added advantage of being able to protect you from the drizzle.
Is it the clash between the trendiest titans, or is it the clash between the best waterproof sneakers in the market? The battle stands between the 100% waterproof Vessi Weekend Sneaker and the water-resistant Allbirds Runner Mizzles.
Materials and Fabric
You'd be happy to know that all Vessi shoes are 100% vegan. Each shoe has attained 600% less energy consumption, used up 30% less water, and 97% less trim waste than conventional practices.
On the other hand, Allbirds Mizzles are manufactured from sustainably sourced materials and an animal byproduct: merino wool. Allbirds also recycle plastic water bottles and turns them into shoelaces.
For people with a latex allergy, wearing Vessi sneakers is not recommendable. The Vessi sneakers have a fully waterproof construction, and for this reason, the midsoles are made of ultralight EVA, and the outsole is made out of rubber.
Allbirds don't have a latex allergy warning on the website. However, the Allbird outsoles are made of the first carbon-negative green EVA, SweetFoam™, and FSC® Certified natural rubber that doesn't have the protein and impurities that cause latex allergy.
Waterproof Property
Vessi waterproof shoes are 100% waterproof. They have a snug-fitting to your feet, leaving no room for water to seep in. Vessi integrates its Dyma-tex membrane technology into its engineered knit material. This means, Vessi doesn't give a waterproof coating on the knit material that might wear out with time; the knit upper fabric itself is waterproof.
Provided that you walk in shallow depths of water that don't get above your ankle or puddles, your feet will be dry. Only the area where the Vessi shoes don't cover will be wet.
Vessi footwear is 100% waterproof, snowproof, sand proof, and windproof. The fact that it's not a coating means that these features will last you your shoes' lifespan. Also, Vessi waterproof shoes are way more breathable and ultra-lightweight compare to the traditional waterproof footwear alternatives such as rubber boots.
In comparison, Allbirds Mizzles are just water-resistant. Not waterproof. If you accidentally walk into a puddle or a creek, water will seep into the Mizzles, making your feet wet. Allbirds' Mizzles are well suited for urban dwellers walking around the city. They are not the best option if you're planning to go on an adventure that water.
Sustainability
Both Vessi and Allbirds believe in sustainability and lowering of the carbon footprint. Vessi has impressively managed to cut the traditional machine knit times from 45 mins to 7 mins while reducing each pair's emission by over 600%. Vessi has achieved this by developing its own unique patented waterproof layer known as Dyma-tex.
Dyma-tex is a membrane that is made from polyurethane. It has millions of small pores to preclude water molecules from entering but still large enough to allow heat from our feet to escape freely. All this while giving you a lifelong full waterproof feature without using harmful chemicals or coating.
On the other hand, Allbirds is actively looking for ways to reduce its carbon footprint. Allbirds measure every product emission, from its start on raw materials to the end of life, to note the emission while producing it. They also reduce their impact by using things like natural and recycled raw materials.
Cleaning
Vessi Footwear's recent release, the Weekend sneakers, is a full waterproof sneaker that is machine-washable.
Allbirds recommend hand washing the Mizzle collection to preserve the fluorine-free water-repellent layer on the woollen upper. However, if they need deep cleaning, you can gently machine wash them.
Both Vessi and All need to be air-dried and avoid sing any bleach or dryer and bleach at all costs.
Style
The Vessi Weekend style is a retro inspiration by the 90s style kicks. Aesthetically they are trendy ultralight sneakers that are versatile enough to wear as your running shoes and pair up well with your denim pants for a casual dinner out. You also won't see the dreadful toe humps on your Vessi Weekend Sneaker.
The Allbirds Mizzles keep it light and simple however you might probably cringe a little at the presence of the visible toe humps. Ultimately, both shoes keep their branding at a minimal, which is great.
Arch Support
The Vessi Weekend collection offers the strongest arch support. The shoe is best suited for people who require extra help in that or have an active lifestyle. These shoes should be okay for people who have flat feet and tend to in-toe or over-pronate.
Vessi soles are slip-resistant and are made with 4-way traction to provide the necessary slip resistance you need for an active day or even as you run your errands activities.
Allbirds have a padded insole made from castor bean oil blended with the wool lining. The padded lining is some noticeable arch support.
Both Vessi and Allbirds have conveniently removable insoles, so you can easily replace them with your orthotics or inserts.
Return Policy
Buyers that live in North America can return their brand-new purchase of Vessi shoes within 90 days from delivery, provided that they are in their original condition and have their packaging box. Shipping is free.
Allbirds only offer a 30-day trial period after purchase, and refunds can only be requested in the same country they were originally purchased.
The Ultimate Choice
The Allbirds offer an impressive list of features, but even then, the Vessi Weekend Sneakers have proved impossible to beat with much better aspects. They are easy to wear, machine-washable and 100% completely waterproof, making them a great option for running shoes or walking out in wet areas. This is also a functional option if you live in a place that experiences a lot of rain.
Like all Vessi sneakers, the Vessi Weekend is super light and will have you feeling like you're walking on clouds. The style and aesthetically pleasing look will have you feeling yourself in the trendy 90s vibe.
They are so much easier to care for and won't stretch out, unlike the Allbirds wool upper. Plus, they look really great with a pair of leggings, sweatpants or jeans. Happy shopping!