The Best Shoes for Rain: Men and Women Waterproof Options
With the proper footwear in your wardrobe for the winter season or rainy periods, you have one more minor problem: the rain won't distract your energy and flow when getting things done. The best shoes for the rain should be functional, lightweight, and should also fit your needs perfectly while keeping you dry and stylish.
More and more companies like Vessi.com have come up each day making or claiming to make waterproof shoes for the rainy weather making it a tricky choice if you don't know what to look for. After some research, we have listed some of the best shoes for the rainy periods with their pros and cons. The article also comprises a comprehensive buying guide to guide you by making sure you make an informed decision.
1. Weekend Sneakers. Rating 4.8

A waterproof component in footwear is vital for rainy days if you intend to leave your house. Vessi's Weekend Sneakers have this essential element thanks to the Dyma-tex® material used in their construction. This patented fabric is 100% waterproof and will keep your feet dry throughout the day, regardless of the pouring rain.
Vessi makes stylish waterproof shoes that ensure you don't have to switch between casual shoes and rain boots while you're out and about.
The shoe's upper part is a classic knit with a vegan leather trim and laces featuring a vegan leather pull tab at the top. The sneakers have a smooth lining with an EVA cushioned midsole molded to offer additional comfort and support and come with micro-air pockets that allow your feet to wear them all year long comfortably.
The Weekend Sneakers are also fully machine washable and come in sizes for adults and children.
Pros
100% waterproof and breahtable.

Machine washable.

They have removable insoles that are perfect when using orthotic insoles.

They are super lightweight.

Machine washable.
Cons
2. Cityscape Sneakers. Rating 4.7
The Cityscape Sneaker is Vessi's first ever waterproof sneaker so we couldn't leave it off this list. As with all Vessi shoes, the Cityscape relies on a patented knit called Dyma-tex® that uses a unique three-layer technology to keep water out while allowing maximum breathability.

Image Source: Vessi.com
They have a minimalistic design that makes them perfect for walking or strolling in nature. They are also suitable for outdoor activities under varied weather conditions apart from rainy days since the knit is also snow, mud, and sand proof. Moreover, packing them is pretty easy as they take up little space, making them an ideal pair for travelling when you have limited packing space.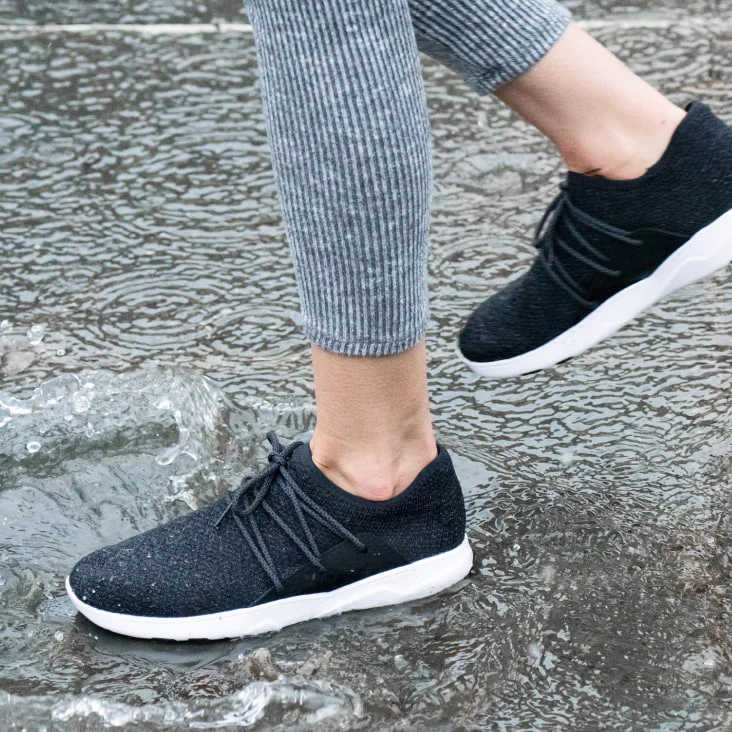 Image Source: Vessi.com
Pros
100% Waterproof and breathable.

Lightweight and stretchy.

Ideal for everyday wear.

Removable insoles for orthotics.
Cons
3. Everyday Move Sneaker. Rating 4.8/5
The Everyday Move sneaker has excellent midsoles that add comfort and support to each step you take. In addition, the lightweight design eases your strides for all-day comfort.
The herringbone wave tread pattern, complemented by extensive rubber zones on the outsole, provides a reliable grip on uneven surfaces. This means you can wear them in the town thanks to their sporty and stylish look.
Image Source: Vessi.com
The type of knit used to design these sneakers requires no breaking in, which means that slipping them on and off is a breeze. On top of that, this design comes with a pull tab on the heel which is perfect for those who tend to pull their shoes on in a rush.
The insoles are removable, great for those who wear orthotics and made with anti-microbial materials. These sneakers are breathable and 100% waterproof as well.
Pros
Fully waterproof walking shoes.

Laces provide a snug fit.

The midsole is super lightweight and comfortable.

Removable insoles.
Cons
Laces may be uncomfortable if the fit is snug.
4. Everyday Move Slip-Ons: Rating 4.9

Image Source: Vessi.com
The Everyday Move Slip-Ons feature a laceless design that offers wearers adaptability and liberty in their movement. If you want to stay active outside during rainy days, the 100% waterproof upper will keep moisture out and your feet dry. Although the upper is made from a 4-way knit that stretches to accommodate your feet comfortably, it is fully waterproof.
Image Source: Vessi.com
This waterproofness is because of the patented knit upper the brand uses to keep all their shoes waterproof. Dyma-tex® is made with millions of nano-sized pores small enough to keep water from coming in, but large enough to allow moisture to escape.
Image Source: Vessi.com
This lightweight footwear can rival your best waterproof hiking shoes, thanks to their well-cushioned VZero2 midsole. The cloud-like feel underneath your soles ensures superior comfort in wet weather, while the tread offers sufficient support on uneven surfaces.
Although the slip-on design is seamless, the pull tab at the back makes it easy to wear or remove the pair. Also, all the materials used to manufacture the waterproof shoe are creature-free as an added perk.
Pros
Completely waterproof.

Incredibly lightweight.

The stretchy knit is breathable to keep your feet cool.

Stylish laceless design.
Cons
5. Everyday Classic Sneaker. Rating 4.7
If you find yourself dreading pulling out your rain boots whenever you see clouds in the forecast, then these shoes are for you. Thanks to their advanced sole, the pair offers a spring in your step through stable and supported movement.

Image Source: Vessi.com
The impressive comfort of the Vessi Everyday Classics comes from the sock-like fit that keeps them on your feet all day, worry-free. In addition, the waterproof upper is fully breathable. Hence, your feet remain dry in the rain and when they sweat.
The removable insoles in each waterproof shoe means you can customize fit however works best for you. Consequently, you can hit the streets, trails or hallways with a stylish strut, dependable support and all-weather confidence.
Pros
Breathable upper.

Supportive.

Well-cushioned midsole.

Stylish waterproof walking shoes.

Excellent for daily wear because they are durable.
Cons
6. Weekend Chelsea Boots. Rating 4.9
The Weekend Chelsea Boot collection is one of only two styles that come in kids' sizes as well as adults. The laceless design and the pull-loop make the pair easy for kids to wear. In addition, the 4-way stretchable knit ensures they do not fall off when the young ones are chasing various adventures.

Image Source: Vessi.com
Thanks to the breathable and waterproof upper, your kids can enjoy the freedom of moving around, despite the weather. So, if it is hot outside, their little feet will remain sweat-free as the material allows moisture to escape from the interior. On the other hand, they can go through puddles, even in the pouring rain and not worry about water leaking into their rain boots.
These are one of the best waterproof boots thanks to the incredible traction provided by the rubber outsole. Additionally, a durable toe cap offers protection from hard objects while exploring the wild outdoors.
Pros
100% waterproof, breathable, and lightweight.

High panels to keep the water out.

Rubber sole for great grip.

Stretchy knit for a comfortable fit.
Cons
What to Consider Before Purchasing the Best Waterproof Shoes for the Rain
1. The Type or Style of Shoes
There are everyday sneakers, waterproof footwear for the rain in different looks from classy, which can also be office compatible, to sporty looks. Below are some of the types and styles
a). Rain Sneakers
These types of sneakers combine fashion, sturdiness and, at the same time, keep your feet dry. The rain sneakers are trendy, robust, and water-resistant, and they will be suitable for people looking for a trail type of sneakers or a classy-looking sneaker but ensuring your feet stay dry.
b). Rain Boots
These are the best for wearing if you often visit wet areas and you need to beat mud and rainy puddles because they offer some level of protection. Additionally, the boots are easy to clean when muddy and offer a grip that guarantees the shoes are slip-proof, ideal for the best waterproof shoe.
c). Overshoes
Overshoes are pairs that provide extra traction that prevents you from sliding on any wet surface because they are designed to create a streamlined profile by wrapping around your shoe's sole. The footwear comes in different styles and for various conditions and needs, but the bottom line is it ensures your feet remain warm and dry, protected from any chill.
d). Duck Boots
Duck boots are recommended for people looking for protection against all types of wet environments because they have a functional style that can be worn with almost everything. The duck boot is made of half rain boot on the bottom and normal boot on the upper part of the pair with the bottom of the shoe being darker, and it is the waterproof part. This boot is suitable for indoor and outdoor activities ranging from dressing for fashion, hiking shoes in the snow, or rainy day, and because they are easy to style, they will guarantee that you have a laid-back look.
e). Chukka Boots
A Chukka pair is the best if you are looking for sturdy waterproof shoes because they have very sturdy toes, heels, and toes made from waterproof rubber. Chukka boots are a two- or three-eyelet ankle boot mainly worn with casual pants or jeans and made using two leather pieces with one in the front and the other in the shoe's back. Chukka footwear is available in different styles that range from casual to relatively formal.
2. Quality of the Shoes
The stitching method and the quality of materials used to determine whether the shoe will be truly waterproof because even a little moisture will be problematic. Inferior quality will not make the best shoes because water can soften the skin of the shoes and, as a result, cause them to tear. The shoes' quality also determines if the shoes qualify as running shoes to minimize any disaster during the runs. The shoe's quality goes hand in hand with how it has been constructed because the construction will determine how well the shoe protects the feet against any unwanted moisture or leaks.
3. Materials
You can check the shoe's quality by checking for a shoe made of a thick waterproof rubber for the toe and heel part. The best waterproof shoes usually have a distinct appearance of the top looking standard, and the toe and heel having been made of a rubber material that protects your feet from any excess water. Waterproof material ensures the shoe doesn't add unnecessary weight and remains lightweight under any weather conditions.
One of the most recommended materials for waterproof shoes is Gore-Tex because it is microporous and allows airflow while keeping your fit dry. Gore-tex material is wind resistant, waterproof, and breathable, protecting you in not-so-perfect weather conditions.
4. Comfort and Fit
Generally, for any shoe, the comfort and how it fits always comes first because nobody likes to walk in uncomfortable shoes. Therefore, before purchasing a new pair of shoes for the rain, try them on and mainly with the socks you would wear with them. Trying the waterproof shoes without wearing socks might cause the shoe to be uncomfortable when worn with a pair.
5. Function
Luckily, there are different types of waterproof shoes for the rain in this day and age, and you can choose depending on your need or the occasion. The most significant consideration to make should be why you need the rain period's shoes, either for workouts or daily runs or casual wear. Your type of need should determine the type and kind of shoes you go fr because they are no need to choose a complicated shoe when it's not a running shoe, but you can instead go for a more fashionable shoe that can serve you if it rains.
6. Seams
Ensure you confirm that the shoes' tongues have extra seams because waterproof shoes are not sown the same way as regular shoes. The tongue is sewn in on any side of the shoes to ensure that waterproof shoes have a snug fit and offer extra protection.
7. Thickness
Before you purchase the best shoe for the rainy seasons, ensure you confirm and feel the lining thickness with your fingers. This is important because the best waterproof pair of rainy shoes have a thicker lining and which you should feel by pressing the inside of the shoes and feel the extra cushioning. The additional cushioning guarantees that you are comfortable with your shoes all day.
Frequently Asked Questions
1. What are the best shoes to keep your feet dry in and out no matter the weather conditions?
The Vessi Weekend shoes give you both the best features and leave your feet dry from Vessi.com, and we have mentioned above why they are the best.
2. How to get the best life out of my rainy shoes?
To get the best out of your rainy shoes, you should clean off any debris or mud by wiping the waterproof shoes using a cloth. You can also remove the shoelaces after they have been thoroughly rained on because laces usually stay wet for longer when compared to the rest of the shoe.