Best Waterproof Shoes Available Online 2023
You've probably heard the saying, "you can conquer the world in the right shoes," We have one better. "you can conquer the world in the best waterproof shoes." After all, we want you to walk through snow, slush, mud, and rain without limitations while pursuing your dreams.
The truth is that you can handle any weather in the right footwear. Few things are as bad as having cold, soggy feet. Cold, wet feet can dampen your mood and throw you off your intended target. We don't want that happening to you. Though your weather person may try to be as accurate as possible, they may not always get it right, and you might be caught in some rainy weather.
Although an umbrella and a raincoat may be sufficient on a rainy day, they don't protect your feet precisely. Here's where waterproof shoes come in. Where your usual pair of shoes soak up puddles and leave your feet soggy, cold, and eventually wrinkled, waterproof shoes repel surface and falling water and leave your feet comfortable and dry.
The best part? Waterproof shoes and waterproof sneakers don't compromise on style or comfort. After much research, we've found the best waterproof shoes that we think you'll love.
Who is Vessi?
Vessi is a top-rated footwear company known for making 100% waterproof shoes. The waterproofing is not just a coating but is built into the shoe's material. This means that not only will the shoes stay waterproof forever, but there is also no use of harmful chemicals or animal by-products.
Whether going for a walk, a run or travelling somewhere sunny or rainy, Vessi has the perfect all-weather waterproof shoes you will love. No more wearing an ugly rain boots that ruin your outfit.
Let's check out the best waterproof shoes for your everyday activities.
Best Waterproof Shoes
1. Vessi Weekend Shoes: Rating 4.8/5

After wearing work shoes throughout the week, wearing these Vessis will be like a vacation for your feet. They are 100% waterproof which means you can enjoy all those outdoor weekend activities you love while keeping your feet dry.
These shoes are built with the brand's patented Dyma-tex® waterproof membrane, which is breathable making them ideal for hot, humid weather. The best part of these shoes is that you won't require any break-in period as the soft knit molds to your foot. The Weekend also comes with a detachable shock-absorbing insole for additional support.
These sneakers include moisture-wicking micro-air pockets that keep you cool even in high temperatures. The air pockets function by adjusting the interior temperature of the shoe, keeping your feet warm in the winter and cool in the summer.
Basically, these shoes are a true triple threat. You can wear them while running errands, for a dinner date, and even for a walk on the beach—no need to wear a different shoe for each occasion.
Pros
100% waterproof.

Moisture-wicking knit upper.

Removable insoles perfect for orthotics.

Machine washable.
Cons
2. Vessi Everyday Classic Sneakers: Rating 4.7/5

The Everyday Classic Sneakers are the best option for every activity on your to-do list. They, as with all Vessi shoes, use innovative patented waterproof technology to create high-performance shoes that can endure severe weather all year. This is because they use Dyma-tex® technology to imbed the membrane directly into the knit material rather than using the normal hydrophobic coating that many manufacturers use.
This means that the waterproofing will never stop working. The Everyday Classics are water-resistant while breathable and light enough to let sweat escape, making them ideal even during hot summers.
On the other hand, the knit fabric has layers of innovative material, giving these waterproof shoes an adaptable stretch for a pleasant, snug fit when you wear them. They also have moisture-wicking, antimicrobial insoles, which means no stinky feet. Plus, those insoles are also detachable and replaceable insole, which is handy if you need to use orthotics.
The Vessi Everyday Sneakers offer a slip-free Herringbone grip with etched grooves to zone out water and provide you enhanced traction in the rain or snow for optimal stability and balance. They provide a clean, fashionable, stylish, and useful pair of shoes under their Everyday waterproof sneaker line.
Pros
100% waterproof.

They are versatile enough for everyday use.

They are extremely light.

Can endure all weather conditions.
Cons
Not machine washable.

No half sizes.
3. Vessi Cityscape Waterproof Sneakers: Rating 4.7/5

These Vessi Cityscape Sneakers are everything you will ever want in a shoe. They are lightweight, comfortable, and versatile. As if that was not enough, the sneakers have antibacterial insoles to keep your feet fresh all day, as well as a sturdy sole with Vessi's distinctive wave grip for optimal traction in all weather.
The shoes are made with a breathable four-way stretch knit fabric that keeps your feet warm in the winter and cool in the summer. The Vessi cityscape shoes are ideal if you want a shoe that you can wear all day without becoming tired. In fact, they have become the ultimate vacation sneaker, protecting your feet from drink spills, slushy puddles, and tropical rainstorms.
So it's not a surprise that few shoes in history have amassed the amount of affection that these Vessi Cityscapes have. One of the reasons is that they have waterproof protection, which few sneakers have.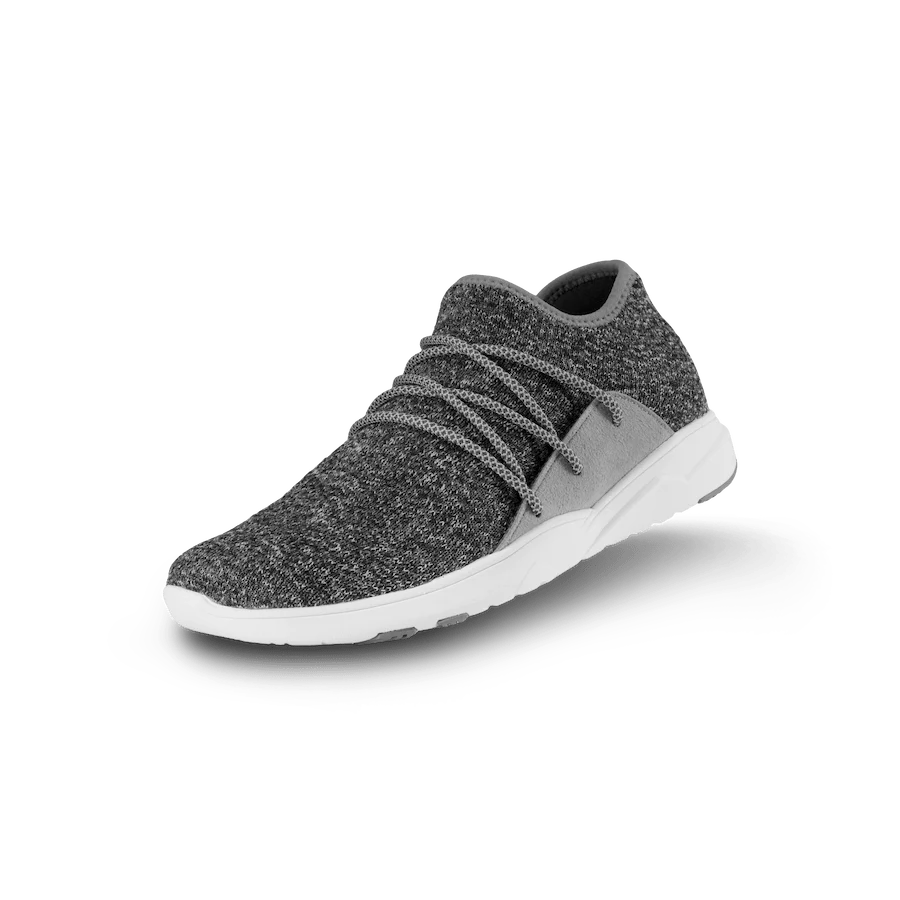 Pros
100% waterproof and lightweight.

Herringbone sole for extra traction.

Made with a breathable four-way stretch knit fabric for warm and cool feet.

Comfortable and stylish.
Cons
4. Vessi Kids Weekend Sneakers: Rating 4.8/5

If you're looking for the best waterproof shoes for kids then these Weekend Sneakers in kid's sizes should be top of your list. Despite the name, your kids and toddlers can wear them every day. They're an excellent choice for kids who love sneakers but want greater support and traction when playing.
The shoes are made with a soft knit that's not only 100% waterproof but also extremely breathable. They also feature a cushioned midsole and cushioned inner lining, providing great comfort. Plus, they have a lace up design that provides a strong closing and effortless lacing so your child can do it by themselves.
The best part of these shoes is that they're machine washable, so you can easily clean them when your child jumps in puddles and walks in the grass. In addition, they are the best kids' shoes since they are waterproof and give optimal protection for your children's feet.
Pros
100% waterproof.

Cushioned midsole that promotes comfort.

The sneakers are machine washable.

Great traction.
Cons
5. Vessi Weekend Chelsea: Rating 4.9/5

The Weekend Chelsea Boots are a great addition to anyone's footwear line up. They are made with Vessis' patented Dyma-tex® technology. The boots have higher side pannels and vegan leather pull tabs for easy on and off. They're ideal for rain, slush, mud, and even sand.
They are constructed with a 4-way stretchy knit and high traction rubber sole that allows a great range of motion, versatility, and comfort.
The waterproof protection and vegan knit technology on these boots is not a coating but is directly incorporated into the knitting. It has nano-sized holes that are too tiny for water to pass through but large enough for allow for moisture to escape. So you can now say goodbye to rain checks and embrace adventure, rain or shine!
Thanks to the vegan leather pull-tabs, these waterproof boots allow you to step into the weekend comfortably and hassle-free. These boots have ultra-light, high-traction rubber soles that make them seem so light you will forget they are there.
Pros
Extra coverage.

100% waterproof.

Pull tabs for easy on and off.

High-traction rubber soles.
Cons
No half sizes.

Hand wash only.
Factors to Consider When Buying Waterproof Shoes
1. Function
The first question to ask yourself is what you want your pair for. For example, do you want walking shoes, hiking shoes, boat shoes, trail shoes, running shoes, dress shoes, waterproof shoes for men, or shoes for all weather conditions? Once you answer this question, you'll be able to choose the right shoe for you.
Most of our options above are great for someone who wants a perfect running shoe or, more specifically, good waterproof running shoes. Nonetheless, there are many other options for exercise-focussed users. We got you if you also want an excellent waterproof shoe for walking or casual wear.
2. Comfort and fit
Before buying the best waterproof shoes, consider the comfort and fit of those shoes. Look for shoes that are tailored to your specific foot needs and preferences. Besides, some people want different shoe attributes, such as broad or thin shoes or arch support. Your waterproof shoes should be comfortable, neither too tight nor too loose. It is also necessary to wear socks and have a good lacing system for added comfort.
3. Waterproof/durability
No one wants to replace a pair of waterproof shoes every other day. This is where durability comes in. Our particular option on this list is the Vessi company, a brand known for its high-quality, stylish, and 100% waterproof shoes. This is the durability you should look for when investing in a good pair for yourself.
All our options above are high quality and will last you long. They are designed for wet conditions and can handle rain showers and other liquids well. The best part about sneakers is that they are more durable than the average shoes and sneakers. However, if you want to invest in the best, you should focus on our first company above, Vessi, or any other sows with a gore-tex lining.
4. Breathability
Though we are looking for waterproof shoes, we should ensure the shoes have a breathable membrane. Your feet might produce sweat during summer, so you need a breathable shoe. A breathable mesh usually allows for easy evaporation. Besides, sweaty shoes are unpleasant and emit a foul stench. Therefore, invest in breathable waterproof footwear that allows your feet to breathe freely.
5. Style
We all want to look stylish and well-put-together. However, first impressions are everything, and our shoes say more about us than we sometimes know. Luckily, many companies keep this in mind when designing their unique products. Vessi and the other brands mentioned above provide you with various options to choose from that speak to your soul.
These sneakers are available in various looks, from sporty styles to classier looks that you can impress your friends and strangers with.
6. Type of materials
The shoes' material should allow your feet to breathe in warm weather. The shoe should also have a breathable membrane, as mentioned earlier, that allows air to flow in and out.
Leather is one of the most durable materials used in shoe construction. In most circumstances, the rubber sole will outlast the upper of the shoe. So it's no surprise that hikers and mountaineers like this water-resistant and supportive material. On the other hand, synthetic leather, nylon and polyester are popular among shoe manufacturers since they are inexpensive to produce, lightweight, and quick to dry. These characteristics make them useful for a broad range of applications, and when done correctly, the waterproof shoe may be fairly durable.
7. Sole Construction
Outsoles usually rely on rubber compounds to create shoes for various conditions. Soft variants are more versatile, while sticky variants give superior traction. Besides, a more aggressive design with deeper treads is preferred in hiking boots.

Midsoles provide structure to footwear by striking a balance between stiffness and elasticity. The PU (Polyurethane) and EVA (Ethylene Vinyl Acetate) midsole combination provides support and stress absorption.

The insole of your waterproof shoes can be solid or pliable for support and versatility. Conversely, some manufacturers provide ventilation or a moisture-wicking lining to keep your feet dry. It would be ideal if you could get shoes with replaceable footbeds for replacing or cleaning.
Some shoes have shanks composed of metal or plastic that run between the outsole and midsole layers. Longer shanks usually indicate stiffer boots.
8. Budget
Money always comes into play when making a purchase. You can get an excellent waterproof shoe on your budget, one worth your money. However, please note that it is better to invest in a good pair of shoes than to get a lower-quality shoe at a lower price. You always want to feel great, in control, and confident no matter the weather. Therefore, you should always choose to invest in the right shoe within the budget to give you the confidence you need to take over the world.
Frequently Asked Questions (FAQS) on the Best Waterproof Shoes
1. How do I know when a shoe is waterproof? 
A waterproof shoe is typically made of rubber or PVC materials. This is especially true for the sole, while neoprene or synthetic leather is for the shoe's upper part. The footwear's non-porous membrane keeps water or any other liquid from penetrating the inside for a waterproof shoe.
2. Is waterproof the same as water-resistant? 
No. These are two different concepts. For example, water-resistant shoes can protect your feet from getting wet during the rainy season, but they do not prevent water from entering when your shoes are submerged in water. On the other hand, waterproof shoes are impervious to water and protect your feet more than water-resistant or water repellent shoes.
3. Can I waterproof my shoes?
You can waterproof your shoes with waterproofing spray, wax, and a hairdryer. Many people cover their shoes with beeswax and then melt the wax with a hairdryer until the wax fades into the shoes. Nonetheless, you can buy a waterproofing spray to simplify your task, but it's only effective on suede, canvas, and hemp footwear. On the other hand, the bad thing with waterproofing your shoes is that it's not permanent; you will need to keep redoing it and maintaining the waterproof material. That's why most people prefer buying an original waterproof sneaker.
4. What's the highest waterproof rating?
IP68 ratings are towards the top of the IP rating scale. Both digits have reached their maximum value: A 6 for total protection against solid infiltration. An 8 for entire water ingress protection, including complete submersion below one meter for at least 30 minutes.
5. Can a suede or canvas shoe be waterproofed?
Yes. Look for shoes with acrylic polymer or silicone in their ingredients. In addition, you can use waterproofing sprays on canvas, suede, and other shoes with textured material.