Best Waterproof Boat Shoes to Keep Your Feet Dry
Anyone who has been on the receiving end of a good soaking at sea knows how uncomfortable cold, soaked toes can be! As a result, a sturdy pair of waterproof boat shoes are a must. Aside from personal discomfort, there's also the matter of remaining safe on board. If you can't feel your toes, your safety is likely to be jeopardized.
Sailing shoes have gone a long way since they first came into existence. Sailors, and amateur boaters, now have access to a wide range of comfortable, stylish, waterproof, and most importantly, functional sailing footwear.
But, what makes for good boating shoes? Let's find out.
What Makes a Functional Pair of Boat Shoes?
1. Grip
When sailing, losing your balance can be disastrous. So when it comes to boat shoes, traction should be your primary consideration. Your soles should keep you straight and sure-footed whether you're on damp or dry surfaces. Heavy lugs found in hiking boots aren't the best choice for the water.
Instead, choose a new pair of shoes with a subtle tread pattern and superior grip ability. Maximum contact with the ground is ensured with this tread, and a little siping here and there adds to the traction.
2. Waterproofness
Seawater sprays and splashes are unavoidable. So, if you want a genuinely seaworthy sailing shoe, you'll need waterproof footwear; not water-resistant or water-repellent, but completely waterproof. Vessi is well known for producing sneakers and shoes that are waterproof, and breathable but not sweaty. Suitable for all environments. Furthermore, the shoe should be quick-drying. If your footwear becomes wet, you risk losing comfort, stability, and, ultimately, safety.
3. Material
Deck shoes have traditionally been made with a leather upper. It was the most reasonable choice for the high seas due to its natural water resistance and durability. Leather isn't your only option, though. It might not be the best option, too, given recent improvements in the footwear business. Leather, while initially water-resistant, can quickly succumb to dampness.
Furthermore, leather is not stain-resistant, which means that if it gets wet, water spots will appear. Furthermore, leather boat shoes are less adaptable and flexible than their non-leather counterparts. You can use almost any material these days as long as it's water and stain-resistant. The material should also be breathable to combat the heat of the beating sun.
4. Non-Marking Sole
Many stiff rubber soles leave an imprint on whatever surface they come into touch with, even if you don't notice it. On surfaces like hardwood floors, the stains are significantly more visible. Unfortunately, neither you nor your deck is safe.
A non-marking rubber sole is required to avoid the unpleasant look of black stains on your deck. It is usually stated in the product descriptions. If it isn't stated anywhere, the shoes are likely not non-marking. Non-marking soles are also more flexible by default because the material is less stiff and hard. Here are the best waterproof boat shoes available today.
The Best Waterproof Boat Shoes
1. Vessi Weekend Sneaker. Rating: 4.8

Vessi's Weekend Sneaker collection is designed to match everything you love to wear while still keeping you safe when out at sea. The Weekend Sneakers feature a mud, liquid, and sand-resistant material that allows you to focus on enjoying your boat ride rather than your feet.
One of the best parts about these walking shoes is that they're 100% waterproof thanks to the patented tech used to make them. Dyma-tex® is made with an integrated layer that allows the sweat and heat to escape so your feet can breathe while keeping all the elements out.
These shoes come in versions for men, women, and kids - so no one has to miss out! The kids' lines are also super simple to slip on and off when they're on the go. The best part? The Weekend collection can be machine washed in cold water and on a gentle cycle. Just make sure to only air dry.
Pros
100% waterproof.

Dry and comfortable.

Machine washable.

Lightweight.

Breathable knit material.
Cons
No half sizes.

Aren't actually non-marking.
2. Vessi Everyday Classic Shoes. Rating: 4.7

The Everyday Classic Sneakers are perfect for daily wear, so you can put them on any time of the day no matter where you go. In addition, they are super supportive and offer enhanced durability.
They also feature an upgraded sole that makes them supportive and comfortable. This ensures your feet stay fresh, dry, and warm all day regardless of the weather. In addition, they feature a sock-like knit that adapts to your foot shape the more you wear it.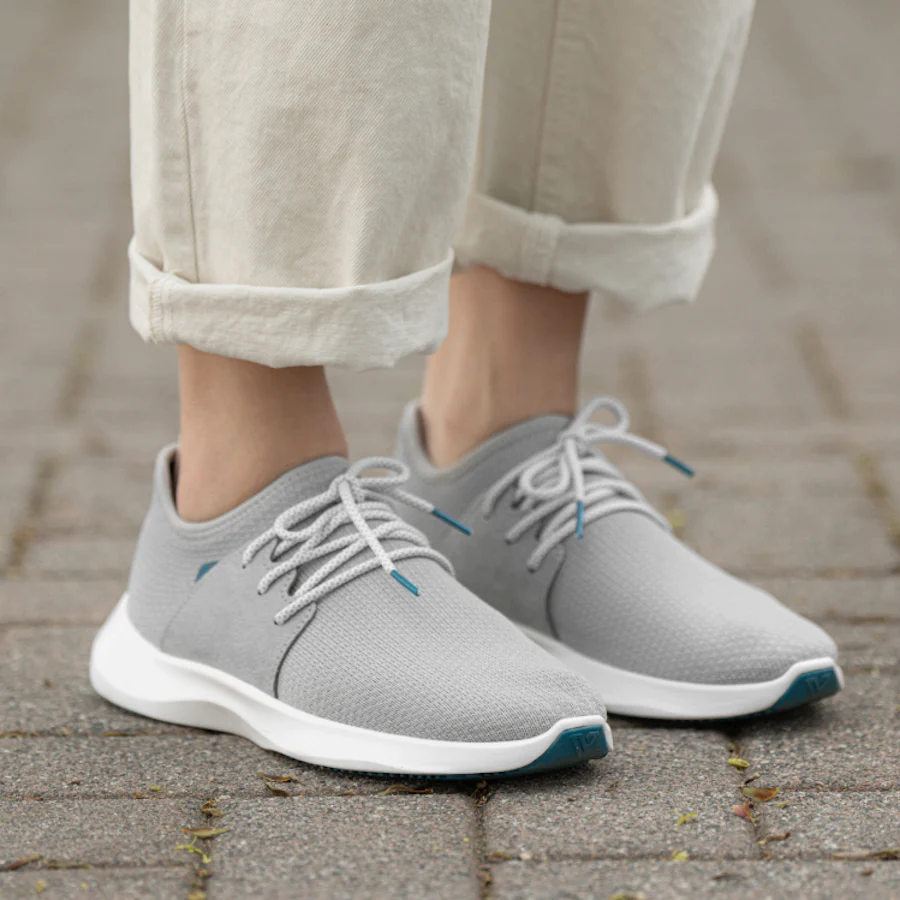 Pros
Durable.

Lightweight and suitable for daily wear.

100% waterproof.
Cons
3. Vessi Everyday Move Sneaker. Rating: 4.8

If you are adventurous, then these are the best shoes for you. The Everyday Move Sneaker is designed to keep you moving as they provide all-day comfort. Like all other Vessi shoes, they are 100% waterproof, making them suitable for all weather.
They also provide more breathability, keeping your feet comfortable and preventing sweat from making your feet wet.
Like the Everyday Classic, these Everyday Moves are also lightweight and comfortable. This feature makes them even more suitable for those who work long hours like nurses. So, it is a versatile shoe you can wear daily as you go on with your activities.
These Everyday Moves are designed with Vessi's Dyma-tex® technology that keeps your toes and feet dry while letting moisture escape. The best part of Dyma-tex® is that it is not just a coating but is directly integrated into the knitted uppers.
The midsoles offer comfort and support and are removable for those who wear orthotics. On the other hand, the outsoles are designed with larger rubber zones to provide you with better abrasion resistance. These shoes also feature a herringbone wave structure that provides extra grip, ensuring you do not slip and fall while working or walking on wet surfaces.
Pros
Comfortable.

100% waterproof.

Stylish.

Easy to slip into.
Cons
4. Vessi Sunday Slippers Rating: 4.7

Just because you don't always want to be running around outside doesn't mean you should sacrifice comfort. Vessi's Sunday Slippers are a great way to keep your feet cozy and warm no matter how cold it gets outside.
The Sunday Slipper is also 100% waterproof thanks to the vegan wool used to construct them. Dyma-wool® is Vessi's cruelty free material that will keep your slippers waterproof for as long as you own them.
The best part about these slippers is that the sole is made with thick rubber to help with traction. So you can lounge around inside or quickly run out to grab the newspaper or package delivery.
For those that tend to rush out of the house and step on the back of their shoes, you'll find the Sunday slipper is perfect for you. They were designed with a collapsible heel for a quick on and off.
Pros
Lightweight and comfortable.

100% waterproof.

Collapsible heel.
Cons
A little warm for the summer season.
5. Vessi Weekend Chelsea Boot Rating: 4.9

Inspired by the classic Chelsea boot look, these shoes are constructed with a four-way stretchy knit, making them easy to wear and remove. Their vegan leather pull tabs also make wearing them easier. They feature high traction rubber soles that keep you on your feet all day, even when working on slippery surfaces.
These Vessi shoes are 100% waterproof, making them suitable for working in wet conditions. Like a classic boat shoe, these Weekend Chelseas will keep your feet dry and protect you from wet weather.
They are ultra-cozy and the best for working long shifts. These Weekend Chelseas are not just for the weekend, but their lightweight nature makes them easy to move around in.
Pros
100% waterproof.

Comfortable.

Suitable for all weather.
Cons
No half sizes.

Doesn't have a non marking rubber sole.
Benefits of Waterproof Shoes
Waterproof boat shoes are necessary and are lifesavers. They help protect your toes from wetness that is inevitable while boating. Some of the benefits of using waterproof boat shoes include;
a). Keeping your feet dry
No one wants to get their socks and feet wet. Therefore, waterproof shoes will benefit you majorly by keeping your feet dry. Most waterproof shoes like Vessi are made with a waterproof material - for Vessi, it is their patented Dyma-tex®. This material prevents water from entering the shoe.
b). Preventing cold feet
Your feet will get wet if you step into a puddle of water while wearing non-waterproof shoes. And as if that is not enough, your feet will also get cold, especially when the temperature drops. This situation will keep you uncomfortable. However, if you wear waterproof shoes, you can avoid all that.
c). Preventing blisters
We understand how annoying and painful a blister can get as you try o stay active. You are more likely to develop blisters with wet feet than with dry feet. The wetness makes your skin soft and weak, thus more susceptible to abrasions. Though, with waterproof shoes, you are assured of dry feet, which will ensure you do not get any blisters.
Frequently Asked Questions on Best Waterproof Boat Shoes
1. When do you need to wear boat shoes?
If you own large boats, such as a huge fishing boat or a yacht, a boat shoe is exactly what the doctor ordered. On these types of boats, the right shoes give excellent traction to keep you safe and comfortable.
The good news is that sailing shoes aren't just for the water. They're arguably more popular on land than on the water. Not just because of how they look but also because they're handy for anyone who lives in a warmer area and spends time around the pier.
2. Do you actually need to wear socks with your boat shoes?
It's certainly recommended, and here's why:
a). It's possible to become sick from not wearing socks with boat shoes
Not wearing socks with your shoes when boating can lead to foot fungus issues like athlete's foot. Bacteria flourish in warm, dark, and damp settings, making boat shoes an excellent breeding habitat. Wearing socks will help keep your feet dry and prevent this.
Basically, when you wear socks with water shoes you add an extra layer of protection to control the moisture that naturally accumulates in your shoes. A great pair of socks keep your feet happy, dry, and, most importantly - healthy.
b). Going sockless can be uncomfortable in boat shoes
During the "breaking in" period, traditional boat shoes are infamous for being uncomfortable. This is because it takes time for the leather to mould to your feet, as it does with many other types of leather shoes. It can be a painful process, resulting in blisters and hotspots that can be avoided by wearing socks.
c. Wearing boat shoes without socks can cause them to deteriorate
If you've ever taken off sailing shoes or any other form of closed-toe shoe without socks, you might need to squeeze your nose. Because boat shoes are most typically worn during the summer months, your feet naturally create a lot of sweat. As a result, your sailing shoes will develop a stink that is nearly impossible to remove when the moisture builds up.
You can avoid this by using socks developed specifically for sailing shoes. Wearing boat shoes without socks can cause damage to the insole of the shoes, in addition to generating intense odor. In addition, the insole will loosen and pull back when moisture builds up, causing damage t