Best Waterproof Walking Shoes To Buy
Waterproof shoes play a big role in preventing wet socks in the rain, snow, slush, and mud. When it rains, a lot of people are more concerned with heavy waterproof jackets and umbrellas and forget about waterproof walking shoes. We all know athletic shoes are always comfortable but they are rarely waterproof. Plus, rain footwear like gumboots are clunky, heavy, and uncomfortable.
But, with brands like Vessi in the market, there's never been a better time to choose footwear that's comfortable for all weather.
So if you're looking for lightweight, waterproof walking shoes check out the collection today.
The Best Waterproof Walking Shoes to Buy
1. Weekend Chelsea: Rating 4.9

To kick off our list we have the Weekend Chelsea boot. While typical Chelsea boots can feel a bit restricting, Vessi has solved that issue with their take on the classic shoe.
Not only do they offer the same elegant and classic look but you'll also get more breathing room to move your toes around. This is thanks to the fact that they are constructed with a 4-way stretchy knit that adapts to your foot shape the more you wear them.
As with all Vessi shoes, these are 100% waterproof. Another feature that makes these Vessis the best shoes for walking is their ultra-lightweight and high-traction rubber sole.
When caring for them hand washing is the best way to keep them looking fresh for longer. All you need is a mix of water and soap so you can soak the shoes in there for a bit. Then, use a soft and clean toothbrush to gently scrub the sole and a clean sponge to clean the knit. Once you're satisfied that they are clean enough, put them out to dry. Be sure to not use a dryer.
Pros
100% waterproof.

Comes with a 4-way stretchy knit.

Lightweight.

Pull tabs for easy on and off.

Made from vegan materials.
Cons
2. Everyday Move Sneaker: Rating 4.8

Coming up at number two is this Vessi shoe that will keep you moving all day long. These waterproof shoes are made to provide you with all-day comfort, keep your feet dry, and offer you the added support you require to be on your feet all day.
Some other features you'll enjoy, besides added support, all-day comfort, and 100% waterproofing, include a breathable knit and the fact that these waterproof shoes are made from 100% vegan materials.
Pros
100% waterproof.

Pull tabs for easy on and off.

Has a breathable knit.

Made from vegan materials.
Cons
3. Everyday Classic Sneaker: Rating 4.7

Here is another sneaker that is perfect for everyday wear. Some of the features that make this Everyday Classic stand out include having a breathable knit, being 100% waterproof, and having an upgraded sole. This version of the sole ensures that you experience more supported movement that is also seamless.
To clean these shoes all you need is a mild detergent, water, and a gentle brush. Scrub where you see dirt, rinse under clean water, and then let them air dry.
Pros
100% waterproof.

Comes with a breathable knit.

Keeps your feet supported all day.

Made from vegan materials.
Cons
4. Cityscape Sneaker: Rating 4.7

Just as the name suggests, these sneakers were inspired by city life. However, this doesn't mean that they are limited to urban wear. The one feature that distinguishes these best waterproof walking shoes from the rest of the bunch is that they are ultra-lightweight.
As opposed to other types of shoes like hiking boots, the Cityscape sneaker is 100% waterproof thanks to a special type of knit. It's not a coating and so it does not need to be reapplied in order to stay waterproof forever.
Pros
100% waterproof.

Made with a breathable knit.

Very lightweight.

Made of vegan materials.
Cons
5. Weekend Sneaker: Rating 4.8

These waterproof Weekend Sneakers are designed to give you the same feeling as the weekend. They have a relaxed design and are machine-washable. This is a major feature because these are the only Vessi sneakers that don't need to be hand washed.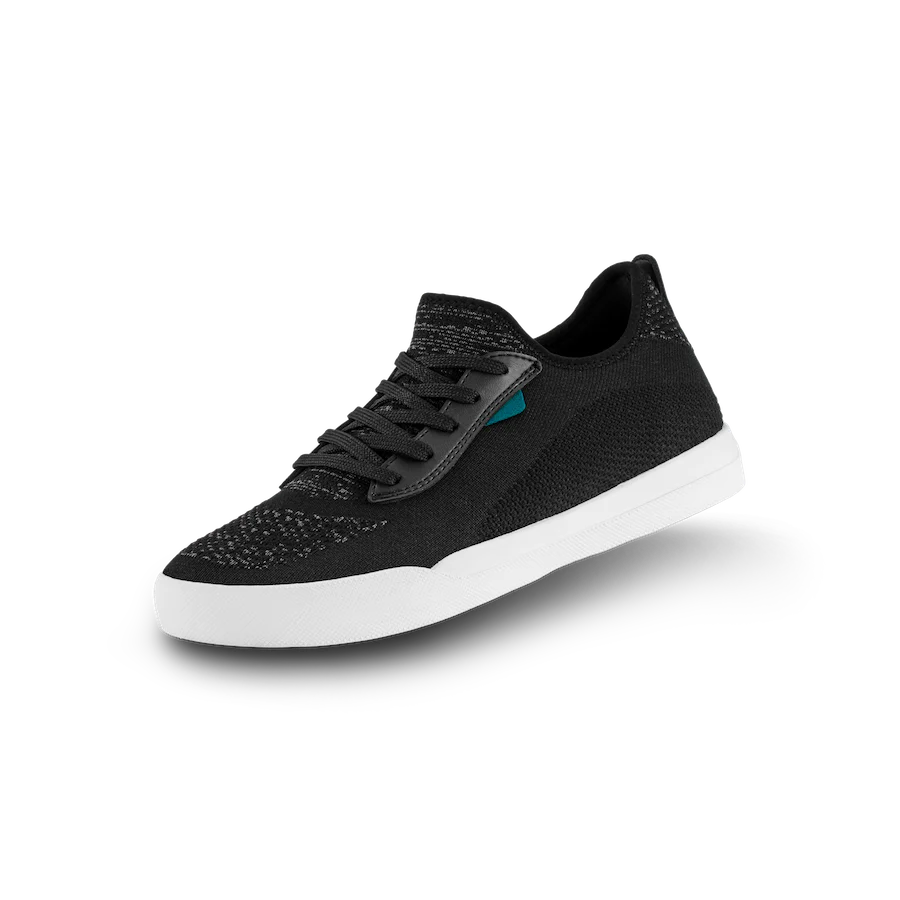 So, how do you actually machine wash them without ruining them? Start by taking off the laces and the insoles. Then, place the laces, insoles, and sneakers into a delicate bag and place this bag into the machine.
Don't add any bleach. Just add a water-based detergent and some cold water and you're good to go. Once they are clean, leave them out to dry. Just like with the other sneakers, don't use a dryer.
Pros
100%waterproof.

Machine-washable.

Lightweight.

Breathable knit.

Made from vegan materials.
Cons
Crucial Factors to Consider When Looking for the Best Waterproof Walking Shoes
Just like their hiking shoe counterparts, walking shoes are designed with the same primary features: waterproof, bouncy, durable, and breathable. Walking shoes are usually low calf and, in many instances, weigh lower when compared to hiking shoes.
They are also designed to be versatile and can be worn for work, walks, or walking the dog. Below are the most important factors that everyone looking for the most amazing waterproof walking shoes should look at.
1. Material
Your walking shoe choice should be made of high-quality material to withstand any weather and environment for long periods. The material should also be both durable and breathable so that your feet feel comfy all the time. The material should also have the ability to withstand all sorts of cracking, especially at the front since that is where it gets strained the most.
2. Comfort
Waterproof walking shoes are supposed to be extremely comfortable in different terrain types. For starters, the shoe should be light enough such that it is not strenuous to walk in. The outsole must be light, sturdy, and with extra padding for the needed bounce when stepping. On the inside, the shoe should be well padded for maximum comfort.
It should also have enough legroom for the toes and enough padding so that even the ankle is well hugged. If a walking shoe is well designed for utmost comfort, it makes things pretty easy when being used. On the other hand, if it is not well designed, it does not do a good job, and the wearer ends up having muscle pains or, better worse, ankle sprains. Since it is light and durable, leather is known for making comfortable hiking shoes.
3. Budget
Like with any other product, a waterproof shoe is supposed to match the available budget at hand. When buying the first approach shoes, the buyer should only go for the pair that is within the budget range, and if any adjustments are to be made, they should not dent the wallet. Some brands are a bit pricey for both men's and women's shoes, although there are still some that have decently affordable models.
4. Customer Reviews
Customer reviews are not something to be taken lightly. For instance, if a women's waterproof shoe brand is highly respected for durability, many reviews about it will be positive. On the other hand, if a trail runners shoe brand has irked many customers in the past over its poor quality, many reviewers will have negative reviews that share about its dismal performance on the terrain. Therefore, it is imperative to have a keen look at customer reviews before committing to buying a pair.
Frequently Asked Questions About the Best Waterproof Hiking Shoes
1. Are walking shoes comfortable?
Absolutely. Many hiking and trail runner shoes are designed to provide maximum comfort to the feet. They offer absolute ankle and sole support to the feet and are also lightweight, making it easy for them to be used on the trails.
2. Are hiking shoes durable?
Yes, they are. A big chunk of the available trail runner shoe models on the market are made of leather and, therefore, reasonably durable. The leather thickness depends on the particular category they belong to.
3. Can the customer return if the hiking shoe does not fit?
Yes, it is allowed. In the event the pair does not fit, the customer is allowed to make returns and get a better pair. In the event the pair is defective, the customer is also allowed to return and get either a new pair or the money back.