Waterproof Women's Comfortable Sneakers for Every Weather
Image Source: Vessi.com
Finding women's comfortable sneakers with ample arch support and shock absorption can be quite a feat. Even more challenging if you're looking for a stylish pair that will still keep you comfortable after standing for long hours at work. A stylish sneaker that's also as suitable for walking, working, running errands, or for your gym session is like finding a needle in a haystack.
That said, there are some things you can look for when searching for these unicorn sneakers for women. For starters, a style that's geared more towards sporty activities is a great option. This is because comfy, supportive kicks might have a long sporty reputation, but essentially, they're for everyone who's active regularly. Especially for those people that tend to have long days at work and are always on their feet.
When it comes to comfort with a splash of style, Vessi sneakers definitely win that title. The coolest part is that the brand's whole sneaker line comes with that extra cushioning all good shoes should have. All their shoes are also 100% waterproof thanks to the patented technology, called Dyma-tex® used to construct the upper mesh.

The upper knit is not only breathable and waterproof, but it's also flexible enough that it conforms to your foot. This is a nifty feature that you'll absolutely love if you have either narrow feet or slightly wide feet.
Additionally, the shoes come with a padded cushion insole for cloud-like support. Those lightweight and antibacterial moulded insoles help keep things a little more fresh. Apart from the highly comfortable construction, Vessi shoes come with an excellent sole grip that allows you to walk across any surface safely and efficiently - including wet surfaces.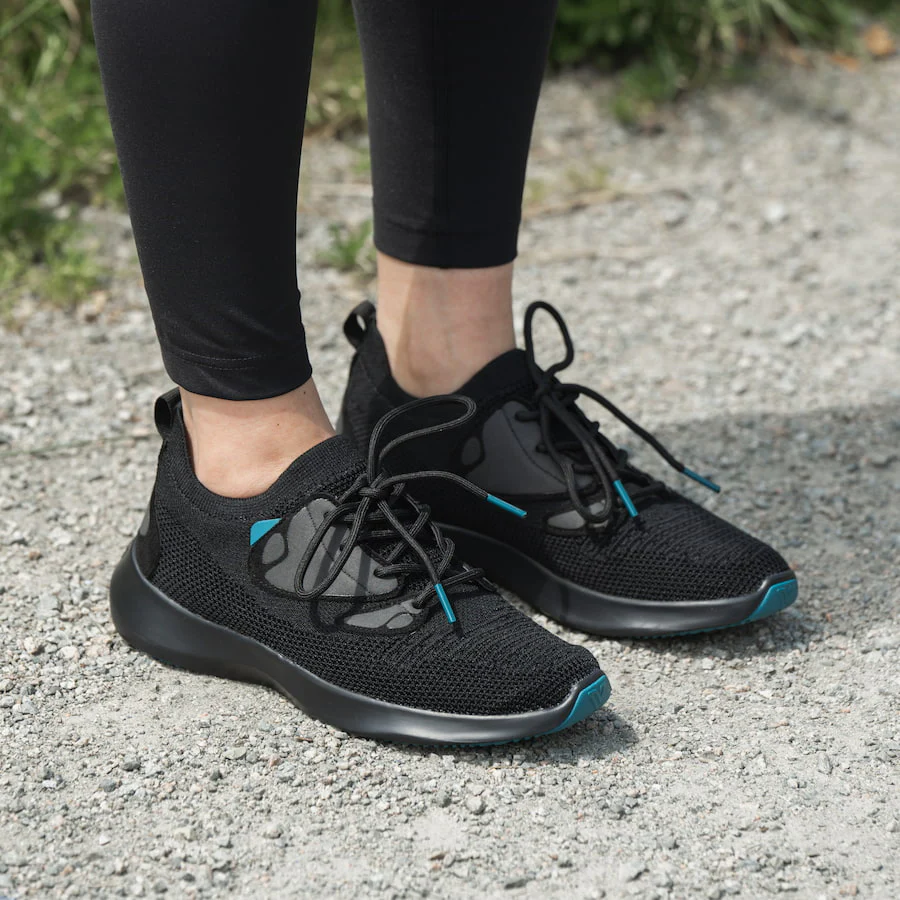 In addition, the outsole has large rubber zones for abrasion resistance and a herringbone weave for that extra grip to help keep you grounded. With comfort, style and function in mind, this ultra-lightweight, bouncy, and stylish shoe is perfect for days when your adventurous side comes lurking.
Pros
100% waterproof and breathable.

Cruelty-free and vegan.

Ultra-lightweight and comfortable.

Four-way stretch construction.
Cons
Like all Vessis, the Weekend Chelsea boots are fully waterproof thanks to the Dyma-tex® membrane used to construct them. They are also made using a 4-way stretch knit upper, giving you the ultimate range of motion with unparalleled comfort.

In addition, they are ultra-light and breathable, with high traction rubber soles that make these Weekend Chelsea shoes feel so much lighter than the regular Chelsea boots and other sneakers you might find in the market.
These shoes are also made with pull tabs on the front and back to help make putting them on and taking them off a breeze. They're easy to clean by hand and are made with fully vegan materials.
Pros
Fully waterproof.

Vegan leather pull-tabs.

Easy to put on and take off.

Lightweight and comfortable construction.
Cons
The Vessi Cityscape women's sneakers are the best shoes to bring a stylish twist to normal city life. Regardless of the work you do or the errand you are running, Vessi is fashionable sneakers that will fit into any space effortlessly.

The shoes contour to the shape of your feet to maximize the comfort you are getting and are the best sneakers for women who may need to move around often. The supportive heel counter is made for longer durations on the feet and does not leave your back in pain.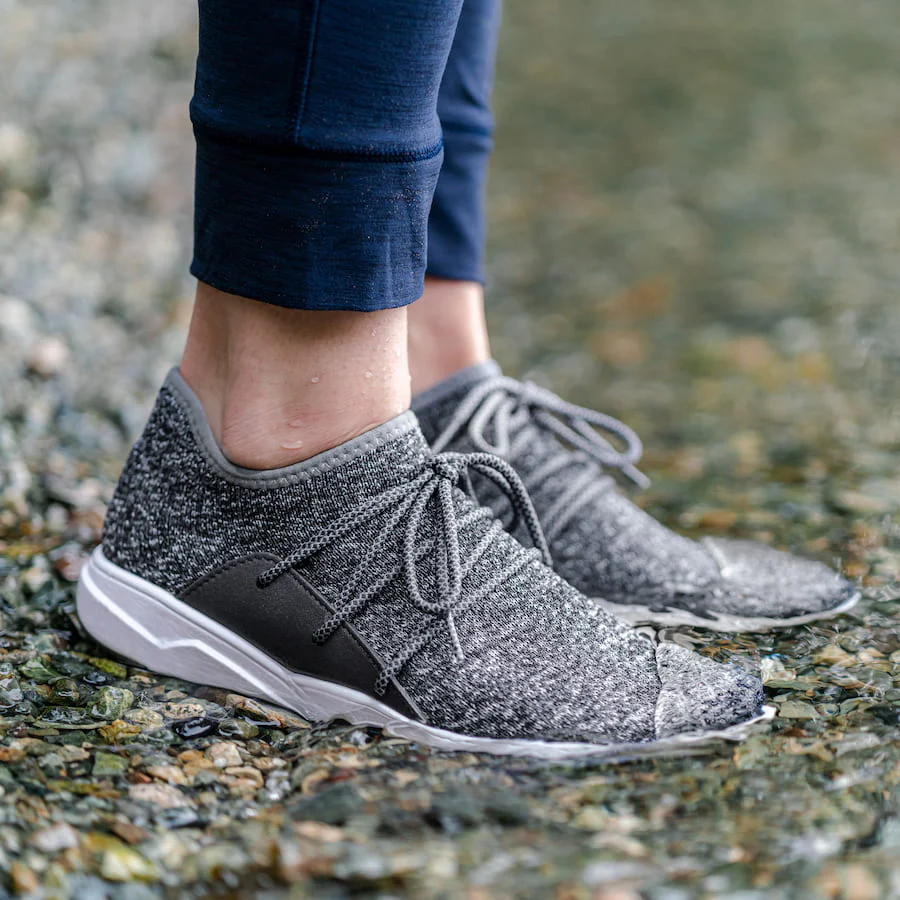 The shoes are breathable and waterproof so they are perfect for going out as you can be sure to come back home with fresh feet. Once you get yourself a new pair, they will be your favourite ones. Start learning how to style sneakers because you will wear these a lot.
Pros
Rubber outsole for maximum comfort.

Vegan material.

Lightweight and breathable.
Cons
There is close to nothing more relaxing than taking a Sunday off and just staying at home with your family or on your own. You seek maximum comfort and no pressure in times like these, not even on your feet. This is where the Vessi Sunday slipper comes in. The slip-on design is the best in the market because the whole shoe is designed around the idea that you can put them on with your eyes shut.

The shoes are versatile and are meant for both indoor and outdoor use. You can play throw with the dog out in the yard or play with your cat on the couch with the same pair of shoes on. The Sunday slipper is the right pair to get when planning an easy and chilled-out weekend.
You have many options that will match your favorite weekend sweats, and you are guaranteed to remain fashionable with the shoes on. The foam footbeds on the slip-ons are currently the best you can find on the market. Your comfort will follow you right from your bed to the ground you are stepping on. Of course, it only makes sense to get these sneakers if you have a stress-free weekend.
The best part? They heel is collapsible so you can just slip them on and walk out the door to grab the newspaper.
Pros
No laces

Ultra-comfortable

Collapsible heels
Cons
No laces to adjust the fit.
If you are looking for all-day comfort, these are the shoes for you. The sneakers have a lightweight design and will do well if you are traveling or are planning to have many days on your feet.

If you visit a new place, these slip-ons are your perfect choice. Not only are the shoes fashion sneakers, but they are also waterproof, and you can use them in new places comfortably. The laceless design also means you can slip them on and off quickly and comfortably.
As with all Vessi shoes, these are 100% waterproof thanks to the use of Dyma-tex® technology. Because it is not a coating the shoes will stay waterproof for their whole life. Plus, Dyma-tex® also ensures your shoes are breathable no matter the temperature or weather.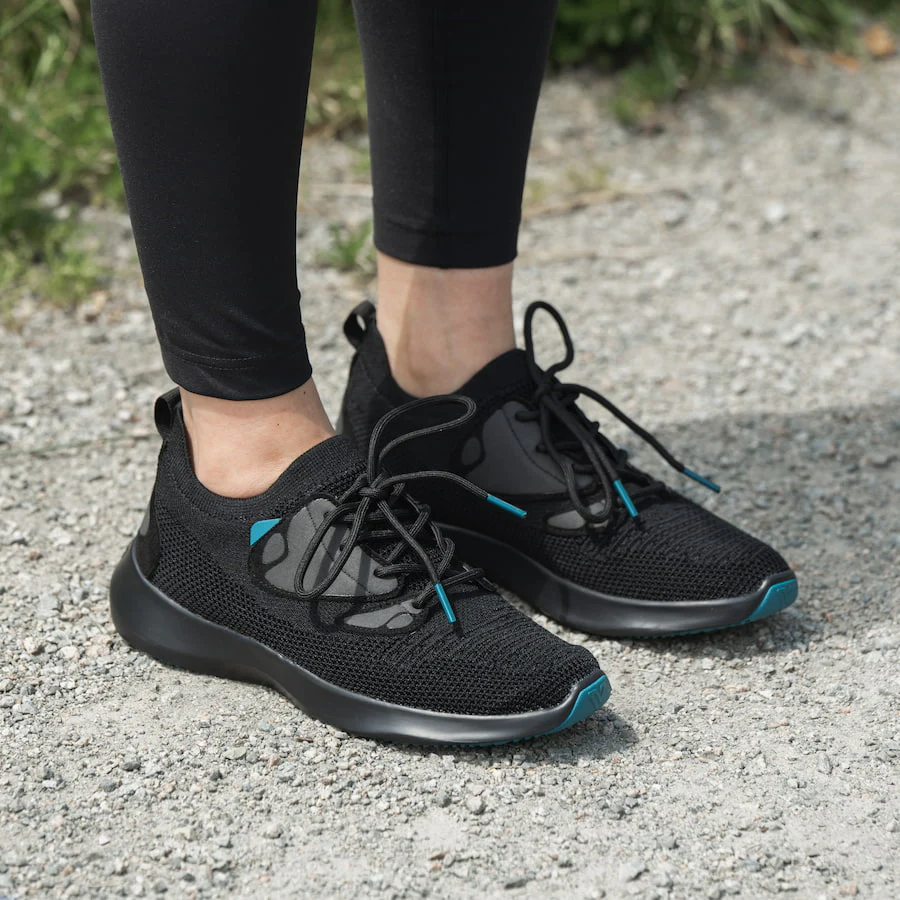 Pros
100% waterproof technology.

Most comfortable sneakers for traveling.

Removable insoles for orthotics.

Comfortable and lightweight.
Cons
The weather change so fast these days it's shining today, and tomorrow it's pouring. Making sure your closet has the proper pieces for all those occasions can be a bit hard, but that's where Vessi comes in. The Vessi everyday women's sneakers are designed to be useful both on rainy and sunny days. The shoes are waterproof and will not get your feet wet on a rainy day. On sunny days, your feet will not soak in sweat and will remain fresh all day. These are the shoes you want for your daily errands.

The thousands of nano-sized pores will keep your feet fresh, allowing air to flow in and out of your shoes to keep them breezy at all times. The laces provide a perfect fit that you can customize however you wish. The soles are seamless to support movement and enhance posture, reducing back problems.
In addition to all the functionalities, the everyday classic is a pair of fashion sneakers that can be worn with an official or casual outfit. So you get a fashionable design and a functional shoe all in one package, making them the shoes you have to add to your collection.
Pros
100% waterproof.

Removable insoles perfect for orthotics.

Rubber sole for great grip.
Cons

Comfort is the first thing Vessi gets right with all its shoes. The next thing is fashion. The Weekend pair are fashion sneakers that you can wear with anything in your wardrobe. While they're not exactly running shoes, these shoes are perfect for running errands in any weather. With options like white sneakers and colorful sneakers, you're bound to find a version that works for you.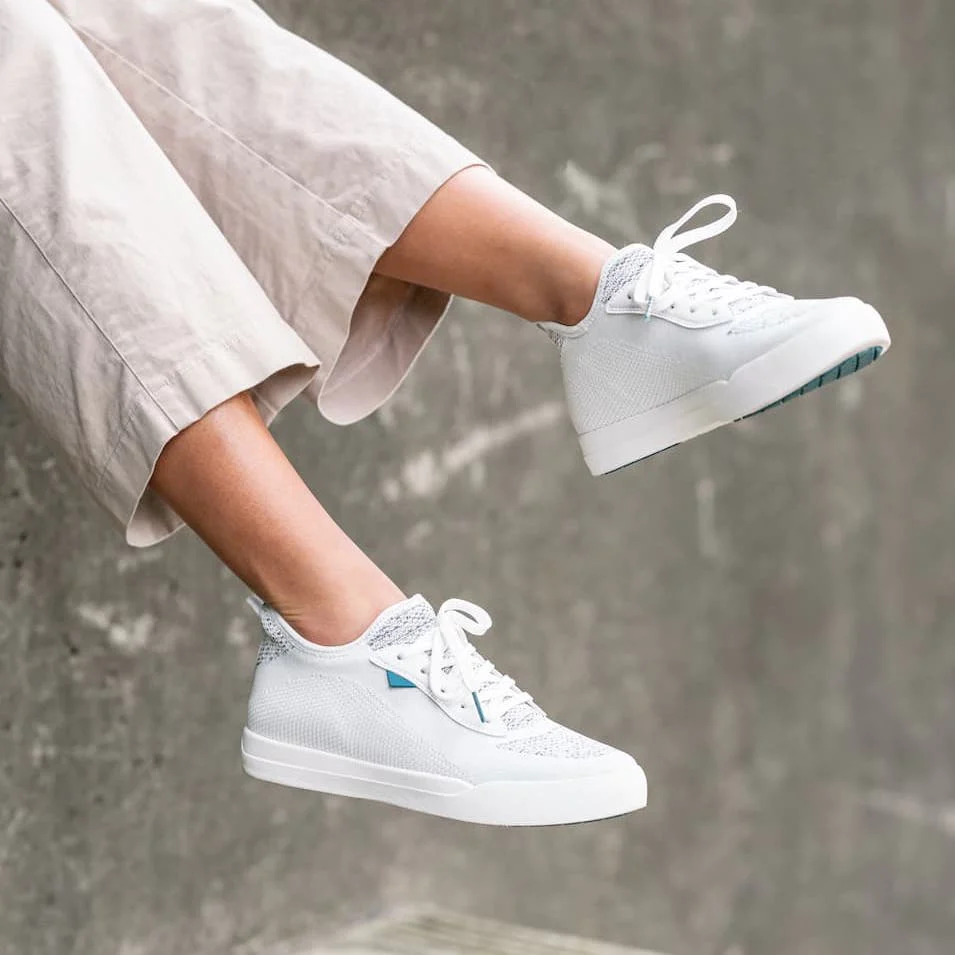 While the shoes are meant for the weekend, they are still fashion sneakers, and you can easily rock them to the office. With Vessi, you will be buying comfort, fashion, stability, freshness, and boldness when you buy a new pair of sneakers for women.
Pros
Comfortable

100% waterproof.

Versatile

Fashion sneakers for women
Cons
What to Consider When Choosing Women's Sneakers
A) Occasion
Sneaker styles range from leather sneakers to slip-on sneakers and running shoes. Some are specially designed for running, others for general exercising but in the end, you should find sneakers that adapt to what you need.
If you want to shop for new shoes that will mostly be used in sports rather than on casual occasions, you'll want shoes that are lightweight, super comfortable and structured from breathable fabrics. 
B) Material
Many of the most comfortable sneakers for women are made from sustainable or natural materials that can withstand some wear and tear. Anything made from leather, for example, is a great option when looking for longevity.
Typically, however, these might be more expensive than those that use artificial materials.
C) Support and Impact
Support and soft cushioning are things you'll need to strongly consider while on the hunt for your next shoes. Comfort levels are an important aspect to consider if you're planning on wearing the sneakers for more than a couple of hours.
Things like how they're constructed will give you a good idea of their support levels. Some shoes also come with a padded collar, for example, which is also great for impact and support.
When it comes to impact, shop for a sneaker with plenty of support around your ankle to stop your feet from overcompensating while you're on the move. Soft cushioning that comes with a memory foam insole at the heel where plantar fasciitis pain is most felt also helps reduce pain.
That said, all these things might not apply if you're just planning to shop for a clean white sneaker that you can pair with jeans and a t-shirt.
D) Removable Insole
Removable insoles make your shoes much more customizable which can be great for people with plantar fasciitis, for example. A flat surface can be quite uncomfortable for people whose plantar fascia hurts while walking and standing.
Frequently Asked Questions on Women's Comfortable Sneakers
1. Versatility
Basic shoe colour choices should always include either black, beige, or grey. These 3 options will always go with anything you wear, whether you decide to dress up your jeans or finally show off that dress that's been sitting in your closet. Since they are all neutral shades, you can wear any of these colours to offset anything else more vibrant you might be wearing.
2. What Shoes are the Worst for Women's Feet?
Contrary to popular belief, there's not much difference when it comes to men's and women's sneakers and how they should fit. The worst shoes for anyone's feet will lack arch support and overall comfort when worn.
Here are some of the most common shoe types that aren't great for people's feet:
High heels- It should be no surprise that these top the list. In general, they can cause a slew of long-term foot issues. Not to mention how painful they are to wear even if you're new at them.

Flip-flops- Unless they are orthotic flip-flops with memory foam, regular flip-flops will always come in a close second for the worst shoes for your feet. This is thanks to their lack of support and shock absorption.

Flat shoes- They're pretty back for your back and neck as well as your shoulders. Same as with flip-flops, the lack of overall support is not great for your feet.
Final Take
With Vessi shoes, you can step out with confidence knowing the shoes can take whatever the weather throws at them. Your feet will remain dry both on wet and hot days. Vessi shoes are the best when it comes to fabric technology, using nano-pores to keep your shoes fresh. While the shoes are breathable, they keep the water out too.