Women's Comfortable Sneakers For Active And Long Hours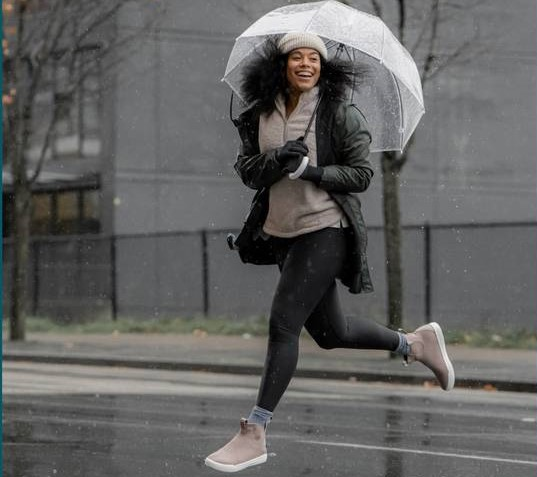 Finding women's comfortable sneakers with ample arch support and shock absorption can be quite a feat. Even more challenging if you're looking for a stylish pair that will still keep you comfortable after standing for long hours at work. A stylish sneaker that's also as suitable for walking, hiking, running, or for your gym session is like finding a needle in a haystack.
That said, there are some things you can look for when searching for these unicorn sneakers for women. For starters, a style that's geared more towards sporty activities is a great start. This is because comfy, supportive kicks might have a long sporty reputation, but essentially, they're for everyone who's active regularly. Especially for those people that tend to have long days at work and are always on their feet.
When it comes to comfort with a splash of style, Vessi sneakers definitely win that title. The coolest part is that the brand's whole sneaker line comes with that extra cushioning all good shoes should have. The brand's whole line is also 100% waterproof thanks to the patented tech used to construct the upper mesh.
The mesh used to build the Everyday Move sneakers for women are fully waterproof thanks to the use of Dyma-tex. The upper knit is not only breathable and waterproof, but it's also flexible enough that it conforms to your foot. This is a nifty feature that you'll absolutely love if you have either narrow feet or slightly wide feet.
Additionally, the shoes come with a padded cushion insole for cloud-like support. Those lightweight and antibacterial moulded insoles help keep things a little more fresh. Apart from the highly comfortable construction, Vessi shoes come with an excellent sole grip that allows you to walk across any surface safely and efficiently - including wet surfaces.
In addition, the outsole has large rubber zones for abrasion resistance and a herringbone wave for that extra grip to help keep you grounded. With comfort, style and function in mind, this ultra-lightweight, bouncy, and stylish shoe is perfect for days when your adventurous side comes lurking.
Pros:
Fully waterproof

Breathable upper

All-day, everyday comfort

Easy slip-on and off

Cloud-like airy comfort

Cruelty-free and vegan

Ultra-lightweight

Four-way stretch construction

Easy cleaning
Cons:
Brooks Ghost 13 is another comfy option when it comes to footwear. Specifically a running shoe for women, it makes it onto our list of most comfortable shoes for women thanks to its superior features. It is uniquely designed to help relieve foot-related conditions such as Plantar Fasciitis, shin splints, pronation, knee pain, foot pain, heel spurs and flat feet - among others.
Brooks athletic shoes are globally known to be one of the best running shoe brands thanks to the comfort, innovation and durable construction that goes into their wide sneaker selection.
These shoes come with guide rails that are designed to help you maintain the most natural position and motion throughout your run. Guiderails don't necessarily 'correct' your stride, but they do assist your body in finding its natural path.
Guiderails also help keep those excessive foot movements in check while offering optimal support and stability while you walk or run. These are definitely a must-have if you experience any form of foot condition or have wide feet or simply need runners.
Pros:
Superbly comfortable running shoes

Stable support and motion ride

Breathable knit upper 

Good grip and supportive heel counter

Wide toe box and construction that works for wide feet

No break-in period required
Cons:
Not waterproof

Relatively heavy
Vessis are so good we had to put another of their designs on the list. As a brand, they've always been at the forefront of innovation, cutting down on their carbon emission while producing vegan and cruelty-free sneakers. For that, Vessi gets a thumbs up from many customers and loyal fanatics.
They've been releasing sneakers to fit their diversely unique clientele, and their recent launch of the Vessi Weekend Chelsea women's sneakers does just that. Like all Vessis, they are fully waterproof thanks to the Dyma-tex membrane. They are also constructed using a 4-way stretch knit upper, giving you the ultimate range of motion with unparalleled comfort. In addition, they are ultra-light and breathable, with high traction rubber soles that make these Weekend Chelseas feel so much lighter than the regular Chelsea boots and other sneakers you might find in the market.
Pros:
Fully waterproof

Vegan leather pull-tabs

Easy to put on and take off

Lightweight construction

Easy to clean

High-quality construction

Cloud comfort construction

Machine washable
Cons:
The Adidas Ultraboost 20 women's running shoe is Adidas's most cushioned running shoe - which tells you just how good they are. These white sneakers should be a part of anyone's wardrobe given how durable they are.
They're made with a 12 mm forefoot stack and a 22 mm heel stack, which basically comes up to a sleek one-piece knit upper. The midfoot cage comes separate to hold the laces instead of the laces being part of the upper construction.
It's also worth mentioning that this pair might not be the best performing running sneaker since it's relatively heavy to wear and doesn't come with as much bounce.
Pros:
Stylish

Boost cushioned insole

Premium construction

Long-lasting outsole

Better traction

Comes in a classic white
Cons:
Not the best running shoes

Doesn't come with an upper lockdown

Relatively heavy
If you're looking for an excellent sneaker for walking to accommodate conditions such as plantar fasciitis, the HOKA ONE ONE Arahi 5 Textile sneaker is a popular pick. Like all other Hoka shoes, these provide great cushioned support that's ideal for walking, while the rocker sole gives a smoother walking.
Unfortunately, this pair is not the best for activities that involve side-to-side motions, such as playing tennis or basketball.
Pros:
Lightweight

Cushioned

Engineered mesh for breathable comfort

Early-stage meta-rocker for a smooth, balanced wear

Firm, EVA J-Frame for lightweight support

Flat-waisted profile or stability

Rubber outsole for increased durability

Removable insole

Added stability for heel strikers
Cons:
Relatively pricier

Can be quite wide

Laces too long and stretchy
What To Consider When Choosing the Best Women's Comfortable Sneakers?
A) Occassion
Sneaker styles range from leather sneakers to slip-on sneakers and running shoes. Some are specially designed for running, others for general exercising but in the end, you should find sneakers that adapt to what you need.
If you want to shop for new shoes that will mostly be used in sports rather than on casual occasions, you'll want shoes that are lightweight, super comfortable and structured from breathable fabrics. 
B) Material
Many of the most comfortable sneakers for women are made from sustainable or natural materials that can withstand some wear and tear. Anything made from leather, for example, is a great option when looking for longevity.
Typically, however, these might be more expensive than those that use artificial materials.
C) Support and impact
Support and soft cushioning are things you'll need to strongly consider while on the hunt for your next shoes. Comfort levels are an important aspect to consider if you're planning on wearing the sneakers for more than a couple of hours.
Things like how they're constructed will give you a good idea of their support levels. Some shoes also come with a padded collar, for example, which is also great for impact and support.
When it comes to impact, shop for a sneaker with plenty of support around your ankle to stop your feet from overcompensating while you're on the move. Soft cushioning that comes with a memory foam insole at the heel where plantar fasciitis pain is most felt also helps reduce pain.
That said, all these things might not apply if you're just planning to shop for a clean white sneaker that you can pair with jeans and a t-shirt.
D) Removable insole
Removable insoles make your shoes much more customizable which can be great for people with plantar fasciitis, for example. A flat surface can be quite uncomfortable for people whose plantar fascia hurts while walking and standing.
Frequently Asked Questions on Women's Comfortable Sneakers
1. What shoe colour matches the most amount of styles?
Basic shoe colour choices should always include either black, beige, or grey. These 3 options will always go with anything you wear, whether you decide to dress up your jeans or finally show off that dress that's been sitting in your closet. Since they are all neutral shades, you can wear any of these colours to offset anything else more vibrant you might be wearing.
2. What shoes are the worst for women's feet?
Contrary to popular belief, there's not much difference when it comes to men's and women's sneakers and how they should fit. The worst shoes for anyone's feet will lack arch support and overall comfort when worn.
Here are some of the most common shoe types that aren't great for people's feet:
High heels- It should be no surprise that these top the list. In general, they can cause a slew of long-term foot issues. Not to mention how painful they are to wear even if you're new at them.

Flip-flops- Unless they are orthotic flip-flops with memory foam, regular flip-flops will always come in a close second for the worst shoes for your feet. This is thanks to their lack of support and shock absorption.

Flat shoes- They're pretty back for your back and neck as well as your shoulders. Same as with flip-flops, the lack of overall support is not great for your feet.