The Best Waterproof Sneakers 2021: Comfort and Style
We have all been there. You wake up on the right side, put on your coolest outfit matched with the freshest pair of kicks you have, and head out for the day. Minutes later, as you stroll down the street, mother nature decides to piss all over your high moods with a downpour. If you are wearing a pair of waterproof sneakers though, this will not faze you one bit.
What are Waterproof Shoes?
As you can guess from the name, waterproof sneakers are made to completely prevent water from seeping inside your shoes. It means that a shoe can be submerged in water, and the water would not soak into the material. The shoe's outer layer is usually made of rubber or synthetics such as polyurethane or neoprene, which means that if you slog inside a wet puddle or snow, your feet and socks will remain dry.
This is not to be confused with water-resistant footwear, which can prevent a bit of water from getting inside. Some slight splashes of water, a bit of rain will not get in, but you cannot submerge them in water or snow because the moisture will soak them.
Unlike rain boots though, waterproof sneakers look great, are comfortable, and they go well with everything in your wardrobe. You can wear them for your everyday runs around town, on casual Friday to work and even as running and hiking shoes. The best part is, you can find them in a variety of styles from slip-ons, sock-like, lace-ups and leather for your everyday needs.
Our Picks for the Best Waterproof Sneakers
1. Weekend Sneakers. Rating 4.8/5
The only thing better than wearing a pair of comfortable sneakers is wearing waterproof sneakers from Vessi. As with all Vessi waterproof sneakers, these are also vegan, breathable, and comfortable.

These shoes are Vessi's take on one shoe that can do it all. The Weekend sneaker is designed to be worn any day, anywhere, and with any outfit. They are also machine washable, but can not be placed in the dryer.
The best part about these shoes is that you won't need any break-in period as the soft knit moulds comfortably around your feet. They have a removable shock-absorbing insole for extra support.
You might think that a shoe that can't allow water would also not let moisture out, but you would be wrong. These sneakers have moisture-wicking micro-air pockets that make them super breezy even in high heat. The air pockets work by regulating the shoe's internal temperature, so your feet are warm when it's cold but not sweaty during summer.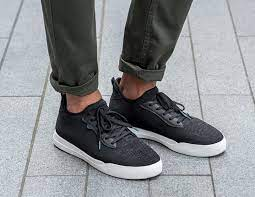 These waterproof sneakers come in a variety of neutral colours to go with every kind of outfit. These Vessi Weekend sneakers are truly a triple threat- you can wear them as you run errands later in the evening for dinner and even for a walk on the beach. You are no more wearing a different shoe for every occasion.
Pros
100% waterproof and lightweight

Made with vegan materials

Vegan-friendly materials

Breathable material and a secure fit
Cons
2. Cityscape Sneakers. Rating 4.7/5
These Vessi Cityscapes are lightweight, comfortable, stylish and go perfectly with any outfit. The best part is that they are 100% waterproof. As if that wasn't enough, these sneakers boast antibacterial insoles to keep your feet fresh all day. They also have a durable sole with Vessi's signature wave grip for maximum traction whatever the weather.

In addition to being completely waterproof, the Cityscape sneakers are made with a breathable four-way stretch knit fabric to keep your feet cool in summer and warm in winter. If you are looking for a shoe you can comfortably wear it all day without complaints then the cityscapes are perfect.
They have become ideal for travelling as well since they protect your feet from any elements you may face when travelling from slushy puddles, beer spills, tropical rainstorms, and even sandy beaches.
Few sneakers in the history of footwear have been able to amass the love these Vessi Cityscapes have, with over 800 customers giving it a 4.7-star review.
Pros
100% waterproof and made from vegan materials

Stretchy material for maximum comfort

It has a breathable outer material

Provides enough cushioning for increased support
Cons
It is not machine washable
3. Everyday Move Sneakers. Rating 4.8/5
Vessi's Everyday Move Sneakers are another perfect option you can go for. These shoes offer maximum comfort and support. There are designed with a VZero2 midsole which works great to help you improve your body posture, stride, and overall performance. The midsole provides great cushioning and aid in shock absorption.

These shoes have a trendy and attractive aesthetic appeal with lightweight wear, making them perfect for various occasions. In addition, the easy-on and easy-off pull tabs facilitate putting them on and taking them off.
These shoes are designed with Vessi's signature patented Dyma-tex® technology, making the shoe 100% waterproof and breathable. Again this material will help keep your socks and feet dry all day long. Additionally, the material is integrated with nano-sized pores that are too small for heat or water molecules to pass through but still offer great air circulation.
In addition, the shoes feature removable memory foam insoles with antibacterial properties. The insoles provide excellent cushioning, making the shoe an excellent choice for people with foot problems. The upper material of the shoe contours to the shape of your feet for the best lateral and extra arch support.
Pros
Lightweight and 100% waterproof

Have memory foam insoles provide extra cushioning

It has a pull tab to the heel, which makes wearing the shoes easier

Breathable upper

Provide good grip and traction
Cons
4. Everyday Classic Sneakers. Rating 4.7/5
If you want the best lightweight waterproof shoes, then the Everyday Classic Sneakers should absolutely be on your list. This waterproof pair is designed with the company's Dyma-tex® technology making them durable and 100% waterproof. This material also has nano-sized pores that block water and dust particles from getting into the shoe, while still allowing sweat to exist and enough room for air circulation.

In addition, these waterproof walking shoes feature a high-quality midsole and inner sole that will provide enough cushioning to relieve landing stress and offer maximum comfort. These comfortable shoes also feature a rubber sole that provides enough traction to give you extra grip no matter the surface you are walking on. Additionally, these best waterproof shoes for men and women can be worn with almost any outfit.
Pros
100% waterproof

Supportive outer sole that provides enough grip and traction

Made with 100% vegan material

Designed with a breathable upper

Lightweight sneakers

Removable innersole
Cons
5. Everyday Move Slip-On. Rating 4.9/5
The next waterproof shoe we will look at is the Everyday Move Slip-On. Like the other Vessi shoes, this pair is 100%waterproof since it is designed with unique waterproof technology.

It is made with a Dyma-tex® waterproof membrane and a layer of synthetic material that promotes durability and increases flexibility and breathability. Additionally, the shoe is designed with 100% vegan materials.
The Everyday Move Slip-On comes with faux leather pull tabs that makes it easy to wear and remove. The shoe has a well-cushioned innersole that provides outstanding support making it an ideal walking shoe. The innersoles are also antibacterial, keeping your feet fresh all day long.
The Everday Slip-On shoe has water-displacing zones that provide superior grip on different surfaces. Again the shoe has a laceless design that makes it super easy to put on and off. With the Everyday Slip-On, you are sorted for light and heavy rainy days.
Pros
Completely waterproof

Offers increased comfort

Best lightweight waterproof shoes

Pull tabs for simple on and off wearing

Offer very comfortable and plush cushioning
Cons
6. Weekend Chelsea Boots. Rating 4.9/5
The Weekend Chelsea Rain Boots are another ideal option you could go for if you are looking for the best waterproof shoes. The best part about these shoes is that you can wear them in light rain, spills, deep puddles. or any substantial amount of water.

They are designed using Vessi's patented Dyma-tex® waterproof technology. This is a membrane that makes them 100% waterproof. This way, you are guaranteed that no water particles will get into your feet. They have a faux leather heel counter to keep your heels in place as you walk.
These best waterproof walking shoes have a high-quality rubber sole that provides enough traction and grip, making them ideal for mild hiking or running. They also have a unique cushioning system that provides enough support.
The best part is that these rain boots are stylish and can be worn on any official or casual occasion. The shoes also feature sturdy pull tabs on the back that help easy wearing.
Pros
Fully waterproof

Perfect fit for outdoor adventures

Keep your feet nice and dry

Offer excellent cushioning

The rubber outsole provides enough grip

Stretchy upper material that provides a snug fit

Breathable uppers for all-day comfort

Ideal for any weather condition

Super lightweight
Cons
Choosing the Best Waterproof Sneakers
With hundreds of waterproof sneakers to choose from in the market, how do you know which one is the best? Here are a couple of features you should look out for;
1. Material
Leather and rubber are excellent materials for waterproof footwear. However, GORE-TEX is now the best material for waterproofing sneakers because it also allows breathability in shoes. If you are a vegan or looking to support sustainability, you can go for footwear that use mesh, which is also a great waterproof material.
2. Comfort
Right next to protection, the most important thing you want from a sneaker is comfort, whether you are buying a walking shoe, hiking shoe or an everyday shoe. Thankfully, manufacturers have managed to incorporate comfort in waterproof shoes that can be rigid and uncomfortable if done wrongly. Look for shoes with enough cushioning in the forefoot, heels and collar, plus an excellent insole to give you support.
3. Durability
Nothing beats water when it comes to ruining shoes, so you want something that is constructed to withstand the damaging effects of water and other elements. Go for shoes with durable outsoles like PU and carbon rubber which will stay put no matter how much they are abused. Shoes with an abrasion-resistant mesh are also more durable, especially if you will be hiking and doing other rough things.
4. Style
For an everyday shoe, style is important which is why people choose waterproof sneakers instead of rain boots. You don't want a shoe that makes you look homeless just because it's waterproof. Think about where you want to be wearing that shoe and the kind of outfits you wear. The shoe must complement those two in a stylish way. The best plan here is to choose low-profile, minimalist designs with one or two colors at most.
5. Price
Last but not least, you want to look at the price because waterproof doesn't mean you break the bank. Waterproof shoes can go as low as $25 all the way to $500, depending on the brand. The best brands like Vessi, Loom and Merrell keep their prices in the midrange of $100-$150 because you are getting quality and value for your money.
Final Thoughts
Your feet are just as important as the rest of your body. When buying raincoats, umbrellas and shower caps in preparation for that rainy day, make sure to also pimp your feet with some cool waterproof sneakers. That said, waterproof footwear will not prevent water from getting inside your shoes if you completely submerge your feet in the water because there is still space between your leg and the shoe. If that's what you are looking for, gumboots will be a better option.
Frequently Asked Questions
1. What are the Best Waterproof Walking Shoes?
If you want a comfortable walking shoe that you can wear all day and have the best support, the Vessi Cityscape waterproof shoes are the best option. These sneakers tick all the right boxes from being lightweight, breathable, antibacterial insoles and cloud-like support so you can walk all you want without hurting your feet. The fact that they are waterproof also means you don't have to worry about rain, or where you are stepping.
2. Can I waterproof my sneakers?
Absolutely. With some waterproofing spray, wax and a hairdryer, you can turn your favorite sneakers into waterproof shoes. Most people use beeswax to coat the entire footwear and then melt the wax with a hairdryer until the wax fades into the shoes. However, you can also buy a can of waterproofing spray to make your job easier, but it only works best for canvas, suede and hemp footwear.
Unfortunately, waterproofing your shoes after buying is not permanent, so you have to keep redoing it and maintaining the waterproof material, which is why people prefer to just buy an original waterproof sneaker.
3. What are the most comfortable waterproof shoes?
The Vessi Everyday sneakers are hands down the most comfortable waterproof shoes in the market. Available for both men and women, these sneakers boast a magic layer known as Dyma-tex, which is a 100% waterproof, breathable knit that keeps your feet cool and cozy all day long.
The super lightweight shoes also have antibacterial insoles and exceptional cushioning to give you proper support as you go about your day.