Stylish Waterproof Cold Weather Shoes for the Winter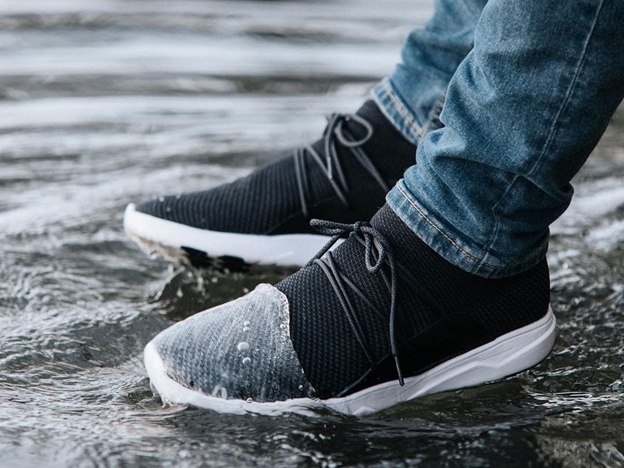 Photograph by Vessi
It's that time of the year again. It's cold and wet. A lot of the winter activities might be indoors, think snuggling up on the couch on a good movie or book since the outdoors in the winter means rain or snow everywhere.
As much as you'd want to stay in, it's likely that you'll have to walk back and forth between places. And it's hard to avoid the wet of winter. Waterproof and warm is always the best route for winter wear and cold weather shoes are a staple. But that doesn't make them any easy to find.
When looking to purchase a pair of winter shoes, you should definitely prioritize warmth, performance, and durability. But by now, you're probably tired of stacking away your favourite shoes and going for some monotonous, heavy, clunky rain or snow boots. Because let's face it, it's either that or walk around in cold feet, wet socks and be downright miserable.
But what if you didn't have to give up on your style or fashion sense and still achieve the functionality, comfort and warmth that your feet deserve.
The Most Stylish Cold Weather Shoes
1. Weekend Sneakers. Rating 4.8/5
Waterproof, all-season shoes are a must - especially during winter. Vessi is a market-leading brand specializing in breathable, light, and stylish waterproof sneakers. It was founded by three Vancouverites who wanted to offer an all-weather footwear option that won't have you giving up on comfort or style.

Image Source: Vessi.com
It's useful to know that water-resistant doesn't necessarily mean waterproof. However, these durable everyday shoes are made using Dyma-tex®, a knit material that allows sweat to escape but prevents water and moisture from coming in. More specifically, Vessi sneakers are fully waterproof, breathable, light, easy to clean and comfortable.

Image Source: Vessi.com
These vegan-friendly, athletic waterproof shoes cater to both women, men, and even children. The Weekend is a classic style sneaker that uses a combination of EVA and rubber that make it light and give it traction.

Image Source: Vessi.com
The Vessi Weekend are a great cold weather sneaker that has a removable PU insole moulded for shock absorption, improved comfort, and enhanced support so you can wear them throughout the day. In addition, if you need extra arch support, you can replace the insoles and use your custom orthotics without going up in size. 
These sneakers can also be tossed into your washing machine. Overall, these are a must-have pair for the cold weather to keep your feet dry at an affordable price for their features.
Pros:
They are 100% waterproof and vegan.

Machine washable.

Removable insoles that are perfect when using orthotics.

They are super lightweight.

They have the Engineered Zone Knit to keep your feet cool during summer and warm during winter.
Cons:
2. Everyday Classic Sneakers. Rating 4.7/5
The only thing better than a trusty pair of sneakers is a trusty pair of waterproof sneakers. Vessi waterproof sneakers have fast gained a cult following of people needing stylish and versatile waterproof shoes. However, they are equally popular among those seeking everyday comfort and would instead rely on a single pair for all weather types.

Image Source: Vessi.com
The Everyday Classic sneakers are genuinely 100% waterproof, thanks to the brand's patented Dyma-tex® technology. This is a proprietary knit fabric that allows the sneakers to be breathable and waterproof at the same time - unlike other brands.
The Everyday Classic shoe is perfect for any activity, whether active or casual. It has a chunky midsole for additional support and a relatively high lace cage to give you improved bridge support.

Image Source: Vessi.com
The support comes in handy while on a mild run, ride, or small hike and is perfect when you need to run a few errands later. They'll also pair up nicely with your casual wear.
Other than being completely waterproof, there are remarkably lightweight to provide that airy comfort. These eco-friendly shoes also feature a newly Engineered Zone Knit that keeps your feet cool in the summer and toasty during winter. 
Image Source: Vessi.com
These waterproof sneakers have a bouncy antibacterial insole. These ultra-light sneakers have soles with a unique herringbone grip for stability and balance, even on the slipperiest paths.
Overall, they're simple, functional and perfect everyday all-weather waterproof shoes – hence the name.
Pros:
100% waterproof

Cushioned, antibacterial, and removable insoles

Made of vegan materials

They are ultra-light

Made of breathable knitted Dyma-tex fabric
Cons:
3. Everyday Move Slip-On. Rating 4.9/5
Wet socks can be the worst part of going outside during the winter months. The shivering cold from the snow on the ground means the moisture can leak into your shoes. Without a waterproof layer on top, you will end up with wet socks.

Image Source: Vessi.com
The Vessi Everyday Move Slip-Ons use the brand's proprietary Dyma-tex® technology for the upper. The unique technology is comprised of nano-sized holes that work well to keep water out while allowing your feet to breathe. Thus, you can freely walk outdoors in light snowfall without water getting into your shoes.

Image Source: Vessi.com
A typical winter boot is burdened by numerous layers that make the footwear adept for walking in deep snow while keeping your feet warm. Consequently, the variations are pretty bulky and heavy to lug around. Plus, they are difficult to get into because of the intricate lacing.

Image Source: Vessi.com
The Vessi Everyday Move-Slip-Ons lack laces easing wearing and removing them. Plus, the 4-way stretchable knit hugs your feet comfortably for freedom in movement. You can wear them with socks if you need extra warmth as well.
Pros:
Lightweight and breathable knit

Fully waterproof.

Super comfortable.

Pull-on style makes them easy to wear.
Cons:
4. Everyday Move. Rating 4.8/5
The Vessi Everyday Move is a comfortable and flexible option for the best winter boots. Admittedly, you cannot go hiking with this footwear on. However, their unique design makes them suited for the cold weather, especially if there is light snow or puddles on the ground.

Image Source: Vessi.com
Aside from the stylish look complemented by laces, these shoes feature a fully waterproof fabric for the upper. You can walk through snowy conditions without fearing water seeping into the interior. The Dyma-tex® knit keeps your feet dry and allows sweat to escape.

Image Source: Vessi.com
The midsoles in the Vessi Everyday Move are more comfortable when compared to winter hiking boots. The shoe is lightweight, and the sole contours to your foot while giving you a little kickback with every step. You will feel like you are walking in the clouds, regardless of the cold temperatures.

Image Source: Vessi.com
Do not overlook this excellent pair if you want supportive waterproof shoes. Although they only reach ankle height, the shoes' outsole construction and rubber zones are abrasion-resistant. Plus, the herringbone wave pattern on the bottom adds a reliable grip for walking on icy surfaces.
Pros:
Thanks to the rubber sole and herringbone tread pattern, there is an excellent grip on slick surfaces.

They are fully waterproof shoes for cold and wet conditions.

You can wear them with thick socks and adjust the fit using laces.

Breathable knit.

Comfortable for daily wear.

Lightweight.
Cons:
Tricky fit for a half-size.
5. Weekend Chelsea Boots. Rating 4.9/5
Snow boot does not have to mean heavy and clunky. Regular rain boots make long periods of time wearing them a pain while limiting your range of motion. Although heavily insulated versions are preferred for subzero temperatures, the Vessi Weekend Chelsea will keep your feet toasty during light snow and moderately chilly winter.

Image Source: Vessi.com
The Vessi Weekend Chelsea adds style to the typical cold weather boots thanks to their unique design. You have different colour options that can match your snow pants, outdoor gear, or outdoor social gatherings in low temperatures. Plus, the vegan leather pull-tabs help round off the awesome look while easing the wearing process.

Image Source: Vessi.com
The Vessi Weekend Chelsea is a comfortable and lightweight alternative to the typical rain boot. For starters, the upper features an ultra-light 4-way stretchy fabric. In addition, the soles are much more forgiving in their weight to keep your feet warm and comfortable.

Image Source: Vessi,com
Whether dealing with freezing rain or light snow, the Vessi Weekend Chelsea will give you the confidence to leave the house worry-free. This pair features the same unique Dyma-tex® material that keeps the interior completely free from outside moisture. Thus, your socks and feet remain dry as you tread through small puddles.

Image Source: Vessi.com
The Vessi Weekend Chelsea is available in kid sizes as well. You can pick them up for the whole family as you embark on outdoor adventures during winter. Plus, the toe box is reinforced to ensure your children's feet are safe when exploring uneven terrains.
Pros:
High side panels.

Lightweight and waterproof.

Comfortable and breathable.

Pull-tabs for easy wearing.

Rubber soles offer high traction.
Cons:
Buying Guide for the Best Winter Shoes
A. The Construction and Material Matters
The primary material that covers your foot needs to be both strong, durable and water resistant or waterproof to protect your feet against the harsh winter weather.
B. The Sole
Most winter shoe soles are made of rubber to block out the water and ice, but always make sure they have traction. Winter boots should have bumps and crevices to offer a much better grip.
C. Insulation
For extreme winter conditions, consider shoes lined with a sheep wool layer which offers a great temperature regulation. In cold, wet weather that's not as extreme, you can consider shoes made of synthetic materials such as Vessi's Dyma-tex knit, which are insulated, waterproof and lightweight.
Frequently Asked Questions on the Best Cold Weather Shoes
1. How do I check whether my new winter shoes fit correctly?
Use the kick test. Once your laces are securely fastened, gently kick on a wall. If your toes move to hit the end of the shoe, there's too much room, and they might rub while you walk, so consider a smaller size
Check the heel space before fastening your shoes. If one finger fits, then they should be comfortable
Stand up and wiggle your toes once the shoes have been fastened. You should be able to do this easily
2. How to choose cold weather shoes for wide or narrow feet?
In the instance that your feet are narrow or wide, then always make an effort to physically try different styles to find the perfect fit. Shoes with knitted fabric such as the Vessi sneakers adapt to your feet size, so they are an ideal place to start. Once fastened, walk around in them to give you a feel of how the shoes fit when you're on the go.