Stylish Waterproof Cold Weather Shoes for the Winter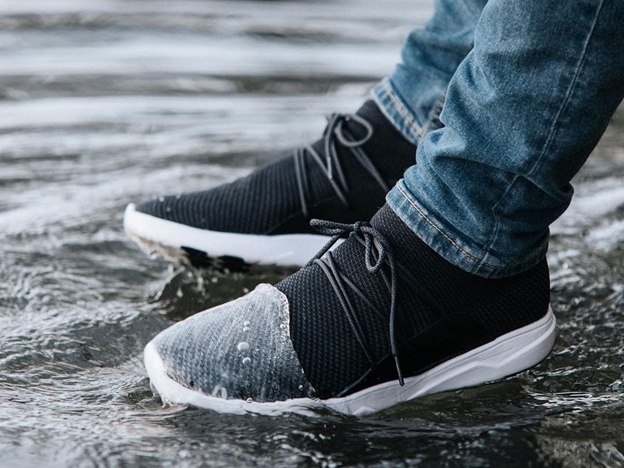 Photograph by Vessi
It's that time of the year again. It's cold and wet. A lot of the winter activities might be indoors, think snuggling up on the couch on a good movie or book since the outdoors in the winter means rain or snow everywhere.
As much as you'd want to stay in, it's likely that you'll have to walk back and forth between places. And it's hard to avoid the wet of winter. Waterproof and warm is always the best route for winter wear and cold weather shoes are a staple. But that doesn't make them any easy to find.
When looking to purchase a pair of winter shoes, you should definitely prioritize warmth, performance, and durability. But by now, you're probably tired of stacking away your favourite shoes and going for some monotonous, heavy, clunky rain or snow boots. Because let's face it, it's either that or walk around in cold feet, wet socks and be downright miserable.
But what if you didn't have to give up on your style or fashion sense and still achieve the functionality, comfort and warmth that your feet deserve.
The Most Stylish Cold Weather Shoes
1. Vessi Weekend Waterproof Sneakers
Men - https://vessi.com/products/mens-weekend-asphalt-black-on-black
Women - https://vessi.com/products/womens-weekend-asphalt-black
Waterproof all-season shoes are a must, especially during winter, and this is the year you should get a pair. Vessi footwear is a market-leading brand that specializes in waterproof sneakers that are breathable, light and stylish. It was founded by three Vancouverites who wanted to offer an all-weather footwear option that won't have you signing away on your comfort and style.
Water-resistant doesn't necessarily mean waterproof, and this false advertising goes around a lot. However, these durable everyday shoes are made of Dyma-tex, a knit material that allows sweat to escape but prevents water and moisture from coming in. More specifically, Vessi sneakers are fully waterproof, breathable, light, easy to clean and, comfortable. Picture walking-on-clouds kind of comfortable.
These vegan-friendly, athletic waterproof shoes cater for both women and men and are shipped throughout Canada, the USA and internationally. Vessi sneakers come in 3 different waterproof categories with diverse choices that guarantee you will find one that fits your groove.
The Weekend waterproof sneakers are the newest addition. It is a classic style sneaker that uses vegan 'rubber' soles and a combination of EVA and rubber that make it light and give it traction. It also has interchangeable laces that are perfect for any look.
The Vessi Weekend cold weather sneakers have a removable PU insole that is moulded for shock absorption, improved comfort, and enhanced support so you can wear them through the day. If you need extra arch support, you can replace the insoles and use your custom orthotics without going up in size. 
These sneakers are also the first that you can toss into your washing machine. Overall, these are a must-do pair that come in handy in the cold weather to keep your feet dry at such an affordable price for all the features it comes with.
Pros:
They are 100% waterproof
They are made of vegan materials
They are machine washable
They have removable insoles that are perfect when you need to use orthotic insoles
They are super lightweight
They have a breathable Dyma-tex knit
They have the Engineered Zone Knit to keep your feet cool during summer and warm during winter.
Cons:
They won't keep you 100% warm during extreme cold weather conditions. Heavy cotton socks could come in handy
2. Adidas Terrex Free Hiking Shoes
Women's - https://www.amazon.ca/Adidas-Terrex-Hiker-Womens-Walking/dp/B07PS9BHK6
Men's - https://www.amazon.com/adidas-Terrex-Running-Legacy-Desert/dp/B0813XL497/
Adidas is a brand that doesn't need any introduction, so we'll skip right over into the good stuff. The sock-like construction and Adidas Primeknit fabric hug your foot for such an adaptive, snug feeling that you could very well get used to. They'll work perfectly for whatever activity you have set for the day.
With every step, the Torsion bar on the underfoot is sure to provide you with a stable natural flex of the midsole and whole foot. What's more, the Primeknit fabric provides a surprisingly durable, breathable, and comfortable fit that's remarkably giving and perfect for cold weather, travelling or long days on the trail. This also makes them ideal for times when your feet swell.
The Gore-tex upper and knitted fabric is water-resistant and high, meaning that your feet will stay reasonably cool in warm weather and relatively dry in wet, cold weather under rain or snow. Other hugely popular aspects about the Adidas Terrex-free Hiking shoes are the boost cushioning balance, underfoot security with abrasion-resistant reinforcements and a moulded toe cap that protect both your toes and the shoes. There's an extra moulded section around the shoe heel for additional protection.
Notable, it also comes with a Continental rubber grip on its underfoot that's probably one of the best you'll come across, which are especially useful in challenging steep and wet places or over snowmelt. The torsion bar.
Pros:
They have a durable rubber sole
The Gore-tex upper is water-repellant to help protect and keep your feet dry
The Primeknit fabric wraps and adapts to your foot to offer support
The construction makes them durable, ultralight and comfortable
They are water-repellant
They are abrasion-resistant
The TPU toe cap gives extra protection
Cons:
They are not 100% waterproof
They won't keep your feet very warm. Heavily layered socks will definitely come in handy with these
3. Vessi Everyday Waterproof Sneakers
Women's - https://vessi.com/products/womens-everyday-marine-blue
Men's - https://vessi.com/products/mens-everyday-moonlight-black-rl-2
The only thing that's better than a trusty pair of all-day-everyday sneakers is a trusty pair of waterproof all-day-everyday sneakers. Vessi waterproof sneakers have fast gained a cult following of people in need of stylish and versatile waterproof shoes. They are equally popular among those seeking everyday comfort and would instead rely on a single pair for all weather types.
The Vessi Everyday waterproof sneakers are genuinely 100% waterproof, thanks to Dyma-tex. Dyma-tex, a proprietary knit fabric created by the brand, allows the sneakers to be breathable and waterproof, unlike other brands.
The Everyday waterproof shoe is a classic that's perfect for any activity, be it active or casual. It has a chunky midsole for additional support and a relatively high lace cage to give you improved bridge support.
This comes in handy while on a run, ride, hike and perfect when you later need to run a few errands. They'll also pair up nicely with your casual wear.
Other than being completely waterproof, there are remarkably lightweight to provide that airy comfort. These eco-friendly shoes also feature a newly Engineered Zone Knit that keeps your feet cool in the summer and toasty during winter. 
These waterproof sneakers have a bouncy antibacterial insole. So, no more stinky feet. These ultra-light sneakers have soles with a unique herringbone grip for stability and balance, even on the slipperiest paths.
Overall, they're simple, functional and perfect everyday all-weather waterproof shoes – hence the name.
Pros:
They are 100% waterproof
They have a cushioned antibacterial insole
They have removable and replaceable insoles, so you can use orthotic insoles
They are made of eco-friendly vegan materials
They are ultra-light
They are made of breathable knitted Dyma-tex fabric
Cons:
The Engineered zone knit will keep you relatively warm, but it doesn't keep you 100% warm
4. UGG Butte and Adirondack Winter Boots
Women's - https://www.amazon.com/UGG-Womens-Adirondack-Boot-Iii/dp/B08JPWTJ7D
Men's - https://www.amazon.com/UGG-Mens-Butte-Snow-Metal/dp/B005ES43Z6/
Style and design are a perfect mythical combination to come by with many winter boots. But if you are active and spend a considerable amount of time outdoors in the freezing winter weather, you'd appreciate the heavy, layered bulky style of a winter boot. And UGG winter boots are one of the best winter boots you could get.
Provided the proper winter socks are worn, the waterproof Butte and Adirondack winter boots feature extra warming insulated merino wool inner layer and padded cushioning insole that is comfortable and perfect for cold weather conditions that could go as low as -20˚C to -32˚C ( -4˚F to -25.6˚F).
The outer lining is made of full-grain waterproof leather, a luxurious wool layer and soft suede to protect your feet from freezing temperatures. It is also fully waterproof and seam-sealed in construction.
The Vibram sole and aggressive sole tread pattern provide excellent traction and stability on wet and slippery places. Overall, these winter boots will keep your feet all toasty, with excellent stability and performance.
Pros:
The full-grain leather is fully waterproof
The Vibram Sole provides superb traction in wet and slippery places
They have premium leather uppers
They offer a great support
The length of the boot and the merino wool layer at the boot shaft provides a great de-factor snow gaiter
The synthetic Spider rubber Vibram outsole is exceptionally easy to clean
Both the sole and the insole are made from rubber which makes it easy to clean
These temperature rated boots feature 200G of insulation and have a dry tech waterproof bootie construction
The insole is removable and replaceable
The outsole is moulded in spider rubber for maximum support and stability
It gives the option to either cuff the shaft or lace-up
The midsole is made of dual-density EVA for extra comfort
The lining and insole have 17mm of UGG pure sheep wool that keeps feet dry and cosy. This makes it insulated and designed for extreme cold weather temperatures (-32-degree temperature rating)
Cons:
The merino wool inner layer could quickly get spoilt if you don't wear the right winter socks
5. Columbia Men's and Women's Bugaboot
Women's -https://www.amazon.com/Columbia-Womens-Bugaboot-III/dp/B07GR7QBVZ
Men's - https://www.amazon.com/Columbia-Mens-Bugaboot-Black-Charcoal/dp/B0184YJE3M/
Columbia Sportswear is well-known as an outdoor gear brand. Like all winter shoes, great snow boots are a combination of comfortable, warm and durable, and Columbia Bugaboot is no different.
It's an excellent all-around cold weather boot with a proper snug fit that gives you the classic look of a duck boot and the durability of premium leather. The Omni-heat 100g insulation and lining technology help keep your toes all toasty, and the sealed seams will keep them dry and comfy.
The rubber sole is resistant to punctures, while the thick Corduroy fabric tongue and cuff design help keep the shoes dry and surprisingly warm, especially when paired with the right socks. Even though it's a full-grain leather boot, the Bugaboot is exceptionally breathable and for maximum breathability, consider wearing wicking socks and certainly not cotton.
The cushioned insoles are removable, while the Techlite EVA foam midsole helps keep your feet, ankles and legs from feeling all jarred while walking on rugged terrain. Since the lacing doesn't go over the toe box, these winter boots allow you to wear thick socks and have been rated incredibly comfortable for people with wide feet.
If you like your cold weather boots in leather and looking for a good pair that can handle some abuse, then these are the perfect workhorses.
Pros:
They are waterproof and have Omni-heat insulation to retain body heat
They have a durable construction
The Omni-grip rubber offers some seriously high traction
Omni-Heat technology uses thermal reflection
Has a Corduroy and full-grain leather for a great rugged look
The snow boot tongue is gusseted to keep out snow, water, and debris
The cushioned insole and midsole offer plenty of comfort
Cons:
It might require some breaking in period
The boots have an accurate size, so that means if you plan to wear thick socks, you probably need to consider getting the next size
Buying Guide for the Best Winter Shoes
A. The Construction and Material Matters
The primary material that covers your foot needs to be both strong, durable and water resistant or waterproof to protect your feet against the harsh winter weather.
B. The Sole
Most winter shoe soles are made of rubber to block out the water and ice, but always make sure they have traction. Winter boots should have bumps and crevices to offer a much better grip.
C. Insulation
For extreme winter conditions, consider shoes lined with a sheep wool layer which offers a great temperature regulation. In cold, wet weather that's not as extreme, you can consider shoes made of synthetic materials such as Vessi's Dyma-tex knit, which are insulated, waterproof and lightweight.
Frequently Asked Questions on the Best Cold Weather Shoes
1. How do I check whether my new winter shoes fit correctly?
Use the kick test. Once your laces are securely fastened, gently kick on a wall. If your toes move to hit the end of the shoe, there's too much room, and they might rub while you walk, so consider a smaller size
Check the heel space before fastening your shoes. If one finger fits, then they should be comfortable
Stand up and wiggle your toes once the shoes have been fastened. You should be able to do this easily
2. How to choose cold weather shoes for wide or narrow feet?
In the instance that your feet are narrow or wide, then always make an effort to physically try different styles to find the perfect fit. Shoes with knitted fabric such as the Vessi sneakers adapt to your feet size, so they are an ideal place to start. Once fastened, walk around in them to give you a feel of how the shoes fit when you're on the go.